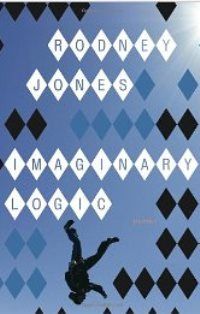 By Rodney Jones
Houghton Mifflin, 2011
$22, Hardcover
Poetry
Reviewed by Jennifer Horne
Rodney Jones' 2006 collection Salvation Blues: 100 Poems, 1985-2005 is more than the now-standard late-mid-career new-and-collected; it's a book you can browse through, read start to finish, dip into, or perhaps even open a page at random and point at a line blindfolded and still hit pay dirt, essence of Rodney Jones.
His new book, Imaginary Logic, is Jones' ninth book of poetry. In it one finds again his signature combination of the vernacular particular and the highfalutin' abstract, a mix that often surprises, as though your plumber were to begin quoting St. Augustine while buried under your kitchen sink.
As in his other books, Jones draws from his "half-mile of road in north Alabama" in such poems as "Confidential Advice" or "The End of Practice," two poems with, ostensibly, football as their grounding subject, or "Starstruck," about the childhood phenomenon, perhaps now lost in the internet age, of being awed by "chance sightings of the spaceman / Wernher von Braun / and the Hee-Haw star Junior Samples . . . ." "The Competition of Prayers" takes us back in memory to a rural church where "Men . . . cry that Jesus suffered, dying for them, / cry especially hard at altar calls." In "Winning" the speaker recalls how, unused to winning (unlike his sister), he bowed when he won "the 4-H Club sack race / at the old Morgan County fairgrounds." "Rememberer" and the hilarious "The Trip to Opelika" feature a mother "who isn't clear on the last thing / she said but remembers everything seventy years ago." The last three poems in the book "The Eviction," "North Alabama Endtime," and "Lines for the Joe Wheeler Rural Electric Cooperative," explore endings, the ambiguous benefits of change, and family continuities: "I know that the man who puts his neighbor out in the road / is a cold son of a bitch, / yet I am no sweeter than my grandfather" ("Eviction").
A second kind of poem has, at least at first, a kind of eighteenth-century formality: "On Fiction," "On Criticism," "The Elementary Principles of Rhetoric," "The Essence of Man," and the more humorously titled "Feelings, by Ashley Higgins." These poems, in the ars poetica tradition, contain such personal assertions as "I want, too, an account of useless virtues, and eccentrics— / perhaps / a hermit amnesiac with an altruistic streak or a senator who knits" ("On Fiction") and "Without taste, criticism inflates to theory. The technique / and not the art. The theology without the religion. / The critic fails when he stops thinking of the sweetness." "Feelings, by Ashley Higgins" is a faux-found document, a persona poem that sounds like a hapless undergraduate attempting to define the objective correlative in her own words—"A guy falls asleep in a bed of fire ants. / A girl with fake boobs rides in a convertible. / Another point is use things from real life."
In a similar but more directly autobiographical vein, "The Ante," "Hubris at Zunzal," "Last Man Standing," and "Two Quick Scenes from the Late Sixties" take as their subject the artist as a young man, learning that, in a poem, "sometimes the subject is not what you think" ("Ante"), as well as how to drink, how to be lonely, how to think about thinking.
Another set of poems, what one might think of as the most plainly serious in the book, "The Art of Heaven," "The Moons: Notes on the Formation of Self," and "The Poem of Fountains" ask the big questions: What is evil? How do we know who we are, and what we are capable of? Taking up issues of morality and identity, Jones (or his speaker) ponders, respectively, the murder of a young woman, a couple he knew in church Bible study when he was growing up, and his work for the "Lilac Basin Sewage Corporation," aka the "shit patrol." "In Media Res" and the longer poem "The Previous Tenants" address the death of near strangers by talking about houses, those manmade structures we remake in our own images. These poems and others examine mortality in regard to what an individual life means, or should mean. It is satisfying to read poems that intertwine daily, lived experience with larger issues, in grounded philosophical meditations.
The book's title asks us to think about what "Imaginary Logic" might be, to explore the possible meanings of the phrase: that all logic is imaginary; that this is a particular branch of logic—as though "Imaginary Logic" were something to be listed in a course catalog; or perhaps that each person creates his own logic to make sense of things. Jones writes in "The Eviction," remembering the family finally removed from his family's land: "With what omissions do I lard memory? By what secret / jurisprudence / do my inner committees invent logic and a sentence?" Looking hard and honestly at his own life, the poet tries to make sense of past and present, imaginary logic perhaps, but also sometimes the only logic we have, and the most personally meaningful. Though he knows that the "aliens" he has experienced at different times, in different places, were all in some way or another physically explainable phenomena, they are also things that present themselves as "a figure for desire or fear" whose "work is seeming. / They speak with the voice of listening" ("What Is True for a Minute"), and Jones asks us to consider how we make the world through our interpretation of it.
Throughout the book, the sureness of the lines, feet knowing where they are going, creates a kind of effortlessness in reading that allows the attention to focus on the narrative and the language. Some examples:
Aging imaginary playmates,
arbiters of loneliness
and childhood, have they
fallen on hard times,
sleeping under bridges
and eating from trash bins?
("Voice Making the Sounds of Engines")
and
What kind of person would hate the color blue,
hate the salesman who jiggles change and the nurse
who murmurs with the voice of a little girl
and the leg that cannot sit a minute without making
a minor tremor register on the Richter scale;
hate infants in general and conversation starters;
hate thongs, medallions, ice cubes, conservatives,
mayonnaise, mouth breathers, foreplay,
pencil tappers, and burkas; hate both The Iliad
and The Odyssey, and delivery vans, and the idea
of dowries; hate plum sauces, exclamation
marks, train crossings, and funeral flowers?
("The Essence of Man")
This is an astonishingly rewarding book from a poet who knows that "The angel of work is sweat" ("Cathedral"). Jones achieves a sense of intimacy without oversharing; his poems are deft but not showy. Set in the contemporary U.S., Imaginary Logic is an extended remonstration with the self and the world, humor and self-deprecation its graces. I feel sure this is a book I will want to read again, not only for the pleasure of Jones' unmistakable voice but also for what he says with it. March 2013
Jennifer Horne is the author of Bottle Tree: Poems and the editor of Working the Dirt: An Anthology of Southern Poets.