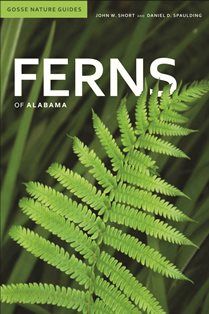 By John W. Short and Daniel D. Spaulding
The University of Alabama Press, 2012
$39.95, Paper
Nonfiction
Reviewed by Phillip Oliver
It has been almost fifty years since a book about ferns in Alabama was published. Blanche Dean's Ferns of Alabama and Fern Allies first appeared in 1964 and was revised in 1969. A new book on the subject is certainly welcome and authors John W. Short and Daniel P. Spaulding have written an admirable study that corrects past technical inaccuracies and provides detailed distribution coverage of ferns growing in the state.
Ferns are defined as vascular plants that reproduce by spores instead of seeds. Fern allies include clubmosses, spikemosses, quillworts, and horsetails. Alabama is known as an abundant source for these plant varieties (over 120 species are included in this book) with many discovered here and nowhere else.
The book consists of five sections. An introduction is followed by a chapter detailing the characteristics of the plants. This is followed by a chapter about the diverse geography of Alabama which extends from the Highland Rim region in northern Alabama down to the coastal plains of south Alabama with many variations in between. The authors discuss how these unique regions contribute to the growing conditions of various ferns and fern allies. A color map key shows the various sections of the state.
A key to the identification of the plants is followed by the major portion of the book, a profile of each individual plant. The two-page profiles include a technical description, a description of the habitat the plant grows in, and the range in Alabama where the plant can be found. A comments section offers further interesting details about the habitat and range of the plant as well as neighboring plants, history, common names, and synonyms. A line drawing of the plant in most instances, a color photograph is provided. Most helpful is a map key that shows the counties in Alabama where the fern grows.
Ferns of Alabama includes several appendices. A checklist for the plant hunter includes all plants mentioned in the book and provides space to record dates and locations. An article reprint from botanist Dr. Alan Weakley of the University of North Carolina discusses the changing world of plant taxonomy. A key using a family classification system is helpful for further plant identification. A glossary of technical terms and index of common names concludes the book.
This attractive and well-organized book provides detailed, scientifically accurate analysis of ferns found in Alabama but is accessible to those not trained in botany. It will be a valuable resource for botanists, students, and nature enthusiasts. March 2013
Phillip Oliver is a gardening enthusiast and Librarian/Assistant Professor at the University of North Alabama in Florence.