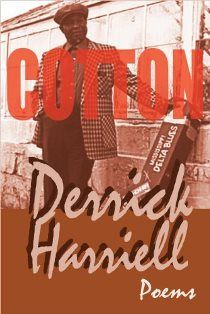 By Derrick Harriell, 2010
Aquarius Press-Willow Books, 2010
http://willowbookspoetry.homestead.com/
$13.45, Paper
Poetry
Reviewed by Carey Scott Wilkerson
In his perceptive introduction to Derrick Harriell's Cotton, Frank X Walker prepares us for the staging of a narrative that speaks to and through the experience of Black America: "Cotton whispers what it means to transcend our collective ignorance, to be raised right and to never forget our roots." This is an ambitious program, to be sure, but Harriell's aesthetic commitments are precisely those that permit him to move between epic vision and close observation. That Harriell traces always an elegant arc between these two is the prevailing strength of these fine poems. Let me be clear: Cotton is the impressive debut of a poet we can trust. And if, in our troubled time, the question of trust feels like an equivocation on Truth, then Harriell's poems are all the more persuasive for their substantial investment in a certain artistic responsibility, one that decodes history as memory and learning as lyricism.
While Cotton, as a text, studiously frames the cultural struggles of black Americans and charts the compelling dynamics of black identity, Harriell's deeper project is to reclaim, for himself and for us, the language of cotton itself. Tragically, the industrial-social apparatus of "King Cotton" was, for many, an instrument of exploitation and repression. And Harriell's poems are indeed the redemptive emblems of autonomy and liberation. However, the more radical achievement here is Harriell's construction of a Cotton Cosmology, a vast experimental zone of inquiry where destiny is harvested in the imagination and monsters are vanquished on the poetic line.
His style of epistemological daring is perhaps most evident in moments of biographical exploration where the conceptual mechanism and limitations of historical reportage are replaced with a deeply-felt sense of magic, renewal, and personal vision. Thus are moments of betrayal and even violence transmuted into art.
Consider this remarkable moment from "Lamentations on the Cotton God":
IV.
Word is my father was made in a Tuscaloosa cotton field.
Grandma found herself lost among the small white clouds,
hunted by a much older, many times married man.
It goes, if you get low enough, you fall off the census.
So when grandma got low, so did the wolf.
She never tried fighting back,
she knew he'd come. In fact, she bathed in goldenrods
that morning, planted his last name in her stomach
that afternoon
Cotton is a shifting tableau of music, family, geography, sex, food, boxers, schemers, dreamers, nocturnal transactions among street-smart players, and odd rituals of lovers in desire's thrall. Harriell's canvas is large and his thematic preoccupations sweeping, but he is best when his brush strokes are constrained and his argumentation incremental. Moreover, it is the clarity of these deliberate, controlled gestures that permits him, when he wishes, to cast off ideological encumbrances and embrace moments of extraordinary prosody and cultural insight.
In the lovely "Spaceships," the other-worldly charm of uncles and their cool cars dramatizes the fantastical texture of daily experience, the exotic thrill of rediscovering one's own home and heritage:
We waited behind bushes,
sniper like discipline,
for our uncles to arrive…
None had large heads
or oval shaped eyes.
They weren't eight feet tall
with iron claws,
hanging dreads.
But they were out of this world.
When they landed their Chevys
we'd rub our eyes
making sure it was bona fide,
that these flying saucers
had discos inside.
Withal, Cotton is a fearless, complex, and beautifully-executed investigation of the narratives that have shaped not only Black America but American reality, however it is defined. And Harriell's triumphant poetic is that of an artist engaged in the essential work of weaving, from cotton, the robes of kings. March 2013
Carey Scott Wilkerson's latest book is Ars Minotaurica.