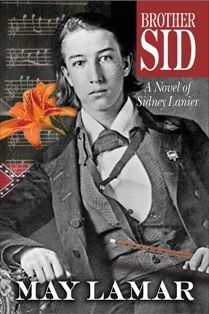 By May Lamar
The Donnell Group, 2012
$22.95, Hardcover
Fiction
Reviewed by Julia Oliver
The author states on the flyleaf of this spirited first novel, "Brother Sid is a work of fiction primarily based on letters to and from Macon [Georgia]-born artist Sidney Lanier." The protagonist is the 19th century poet whose real life fame is legendary in Montgomery, Alabama, where a prominent high school memorializes his name. The jacket cover art combines a photograph of the subject with his flute, musical notation, and other colorful symbols of his life, such as a tiger lily (which, capitalized, is the title of his novel), and a Confederate flag. Except for the Prologue and Afterword, the chapters are numbered and interestingly (and rather contemporarily) arranged to convey the life story in juxtaposed order.
The Prologue begins in February 1865, as Lanier and other "near-frozen" parolees are being transferred down Chesapeake Bay to a prisoner of war exchange site. Chapter One is dated February 2001; the place is Sidney Lanier High School. Chapter Two is set in 1859, at Oglethorpe University, where Sid Lanier, who is plagued with recurrent bronchitis, has returned for his "glorious senior year" after spending the previous term working as a Post Office clerk. The main Lanier's charm and popularity are well-depicted throughout the book, without hammering those points home. Lanier's ambition, at this young time of his life, is to finish a novel he'd begun ("The Jacquerie") and "be a married professor-poet-musician-writer."
The most dramatically interesting chapters are those that reflect the day-to-day existence, hardship, and courage of the Confederate Army during the War Between the States. Chapter Fourteen is set in December 1864, in Point Lookout Prison, Chesapeake Bay, Virginia. Among the endearing traits of this Sidney Lanier (i.e., as sensitively depicted in this fictional account by a discerning, talented writer) are his optimistic outlook and sense of humor. At times, it seems a contemporary wand is waved over the text, which provides energy as well as enlightenment. Asked by a friend if the "desert is doing its magic on you," Lanier replies, "Hell if I know.…I've tried the whiskey cure, the health lift cure, the blister cure which was so painful, after two treatments I told the doc I was cured."
Eventually, Sid says he'll just "have another go at the whiskey cure.…It's the most fun, other than the flute cure." According to the Afterword, Lanier died at age 39, "trying to find breath in the mountain air near Lynn, North Carolina, with his wife Mary at his side. He had continued writing and playing first flute with no formal training in Baltimore's acclaimed Peabody Orchestra.…Johns Hopkins University offered Lanier a teaching position, one he held until his death."
This dynamically luminous narrative is well-executed in the tradition of inspired fiction about real people who contributed outstandingly to a place and time. May Lamar, a journalist and former advertising copywriter, is the author of three previous books. She is married to author/publisher Rich Donnell. March 2013
Julia Oliver is a writer in Montgomery.