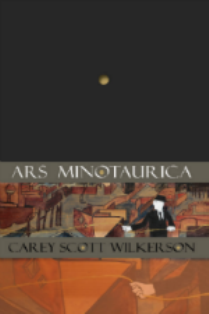 By Carey Scott Wilkerson
New Plains Press, 2012
$16.95, Paper
Poetry
Reviewed by Aaron Sanders
Such a collection as Ars Minotaurica flies so close to the sun that its poetic parts don't melt as much as dissolve. The poet, Carey Scott Wilkerson, then recycles what's left over into more poems, and the reader gets the sense that the poet would be content repeating this process ad infinitum.
Wilkerson's work dwells in the space between signifier and signified where he celebrates the slippage of meaning so many others lament. He is the one most likely among us to look upon Duchamp's "Fountain" without conflict, to urinate and appreciate in one complicated gesture. In the poem, "L'Infamia Di Creti," when his speaker asks, "Who knows if you ever find your way back," he is not delivering bad news. Quite the contrary. You and me, he seems to say, we get to stay here forever!
Indeed this is the obvious point to make about a book so firmly grounded in the myth of the Minotaur. But the reader is right to ask what Wilkerson is on about here. He clearly resists "naturalism's false vision." He pokes fun at himself as a "wild experimentalist," as "morally transgressive." But does Wilkerson move past the clichés of post-structuralist poetics as he did in his first book Threading Stone?
In the documentary Gerhard Richter Painting we follow the painter around in his world—studio, galleries, even a press conference—and in its most revealing scenes we get to watch Gerhard Richter paint a series of abstracts. He works intuitively, searching for patterns, colors, textures, whatever, but what strikes me most is how little sense I have of his process. I wonder about beginnings, middles, and ends. The filmmaker wonders too, and she asks the artist how he knows when he's finished. "When nothing is wrong anymore," he says. "I stop."
Richter's abstracts are brilliantly composed studies of shapes and colors it's true, but that description is no better than my pointing out the importance of the Minotaur in Wilkerson's work. It's a tautology. A nothing. So what is Wilkerson up to in Ars Minotaurica? I can't help but think of Richter when I read the closing lines of the book:
I see unmappable shorelines of identity looping endlessly
around the alphabet, reeling through catalogs of imperfectly
dotted i's, blind concessions to fate over and over without irony,
the vague memory of breakfast with a stranger under a hastily
scribbled sun or
telephone doodles dutifully retraced,
forever if necessary,
until I get it right.
The real question is: How does Wilkerson know when he gets it right? "When nothing is wrong anymore," he might say. "I stop." March 2013
Aaron Sanders is a fiction writer who lives in Columbus, GA.