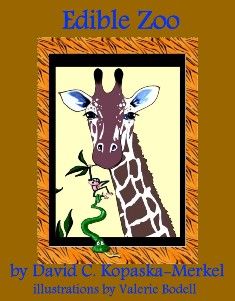 By David C. Kopaska-Merkel; Illustrated by Valerie Bodell
Sam's Dot Publishing, 2012
$8, Paper
Children
Reviewed by Jonathan Rutan
Making a valiant effort to follow in the footsteps of Dr. Seuss, The Edible Zoo by David C. Kopaska-Merkel is a family friendly romp through the fantastic. In his book, Merkel uses a unique—yet hilarious—approach when he decides to discuss some of the many different animals that live in our world. His interest in them, however, is not one in which he wants to talk about how they might look, but rather how they might taste as he illuminates the many different aspects of devouring a horse—or a crocodile—before moving on to imagine how delicious an aardvark—or a woodchuck—might be.
Aimed squarely at the youngest among us, The Edible Zoo is a short read that imparts valuable information to any child. Each new page offers illustrations by Valerie Bodell, and they—plus every line of poetry that describes each new animal—will definitely have the power to immediately draw most kids to any zoo.
But, here also lies the problem with The Edible Zoo. Whereas the great Dr. Seuss made classics that can be enjoyed by all no matter their age, The Edible Zoo is difficult reading for anyone but the very young. Though its rhyme scheme most likely wants to inspire fun—and be engaging—Merkel often reaches too far, or he drops in little asides that read more like oddly done stories rather than whimsical poems.
However, for the small child in any house—or the very small childhood that still remains in any adult—The Edible Zoo is a book that can be useful. It reminds us about animals—all kinds—and though it pulls on the hilarity of eating them—it also makes one long to see them before they are actually gobbled up.
Jonathan Rutan is a graduate student in creative writing at the University of Montevallo.