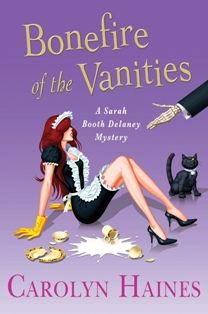 By Carolyn Haines
Minotaur Books, 2012
$24.99, Hardcover
Fiction
Reviewed by Don Noble
Bonefire of the Vanities is Carolyn Haines' twelfth mystery in her Bones series. Sarah Booth Delaney, living in Dahlia House in Zinnia, Sunflower County, Mississippi, began her detective agency in Them Bones.
Haines assembled, right from the start, the ensemble cast that has served her well. Sarah Booth has been assisted in her investigations by her friend Tinkie, the transgendered society columnist Cece Dee Falcon, her psychic friend Madame Tomeeka, and the local sheriff— but especially by the resident ghost at Dahlia House, Jitty, who had been the slave/companion to Sarah Booth's great-great grandmother. Jitty appears when she feels like it, often in costume, and urges Sarah Booth to find a man and procreate.
These are murder mysteries, but since Sunflower County is already sparsely populated, Haines has moved her mysteries around a little. Greedy Bones was set in Costa Rica in a classic gothic novel big-house setting. Her previous novel, Bones of a Feather, moved in a more dangerous and violent direction. Much less cozy, in that novel Sarah Booth is seriously injured and nearly dies of a toxin worthy of Saddam Hussein.
Of all the novels, the funniest and perhaps my favorite is Bone Appetite, where the murders, poisonings of course, take place at a Greenwood, Mississippi, spa and cooking school, the scene of the Miss Viking cooking and beauty contest.
In Bonefire, Haines has stayed in the Mississippi Delta, but the novel feels different. It is at the same time more sexually explicit, although by no means excessive, and more heavily romantic, as in romance novel. Sarah Booth and her boyfriend, Graf Milieu, quarrel. Graf apologizes and Sarah Booth says, "'Hush up and kiss me,' And he did. Long and deep, a kiss that spanned time and place…beneath the surface of any argument was this tidal pull of passion." It seems to me Haines has, rightly or wrongly, decided her readership is primarily female.
The actual plot of Bonefire is the investigation of what appears to be a classic con game. Billionaire Marjorie Littlefield has filed a will leaving everything to her twenty-three-pound cat, Pluto, and has gone to an estate called Heart's Desire in the Delta backwoods. Marjorie is there to attend séances, in a scary basement, with cold chills and automatic writing, hoping to speak with her dead daughter, Mariam, who may have been murdered by her brother, Chasley. Is this a scam? Sarah Booth and Tinkie infiltrate the estate by posing as maids.
The place is owned by Brandy Westin, who used to run a brothel in pre-Katrina New Orleans, and her daughter, the "medium" Sherry. Since Sarah Booth herself has an in-house haint, Jitty, her skepticism about ghosts is a little strained.
Bonefire is neither the strongest nor the weakest in the series, but Haines fans will devour this novel like the others. Those new to her work might do best to start at the beginning and, perhaps, jump to the wonderfully funny Bone Appetite.
Don Noble is host of the Alabama Public Television literary interview show Bookmark and the editor of A State of Laughter: Comic Fiction from Alabama. This review was originally broadcast on Alabama Public Radio.