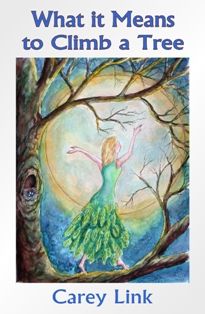 By Carey Link
Finishing Line Press , 2011
$14, Paper
Poetry
Reviewed by Melissa Dickson
There is always Music amongst the trees in the Garden, but our hearts must be very quiet to hear it. —Minnie Aumonier
One need not be quiet to hear the heart or the music of Carey Link's tree-climbing verses. In her debut collection, What It Means To Climb a Tree, Link has composed an ambitious sequence of lyrical poems celebrating and interrogating the arboreal heights. The chapbook, published by Finishing Line Press, also features stylistically naïve but charming illustrations and cover art by Emily Lynn and Patricia Hart Eldridge, respectively.
Each of Link's sixteen poems scale limb and leaf to explore the metaphoric possibilities of climbing trees. Together the poems weave a single song of merriment and mystery filled with traces of childlike wonder and hints of adult anxiety.
The opening poem, "Portrait of Myself as a Tree," sets the stage for the theater to follow in which each poem becomes a portrait of a tree, or of a poet imagining a tree, or of a poet climbing into and becoming one with a tree. The first stanza describes the barren branches of winter trees:
In winter only cold
clings to me.
My fissured bones
whistle in the wind.
My branches are weather vanes
in a silver sky.
But the real story seems to emerge in the stanza's final flurry of personification:
I have nothing to hide –
nothing to give.
Many of the poems in this collection rely on Link's descriptive efforts as shown in the poem "What I Seek in Green." The speaker lists several possibilities she might enjoy once ensconced in the limbs of her tree:
to see
a prism
of sun
reflect on butterfly wings.
or
to swing-sway
cradled by breath,
through fingers
that lift me high enough
to touch shapes
of clouds.
Like most collections, the poems of What It Means To Climb a Tree begin to reveal some of the poet's obsessions and concerns that aren't at the forefront of the stated theme, in this case climbing trees. At first glance, this collection appears to be a joyful journey, the freedom of escaping into the limbs of a tree. However, Link often returns to words which could signify entrapment. The most obvious case in point is the appearance of the word "labyrinth" in four of the sixteen poems. While "labyrinth" may suggest the visually confusing crisscross of branches, it also suggests confinement and an inability to find the peace and freedom one might hope to enjoy while climbing trees. The word "cloister" appears at least twice implying the petite and private rooms of a monastery, and, again, the possibility of confinement.
Link's work is replete with its own internal paradoxes which aren't always fully realized. There's more to explore here for both the poet and her readers. In the final analysis, there are hidden depths, and there is something to give. October 2012
Melissa Dickson is a poet and mother of four. Her collections include Cameo, Table Five, and the forthcoming Sweet Aegis, the Medusa Poems.