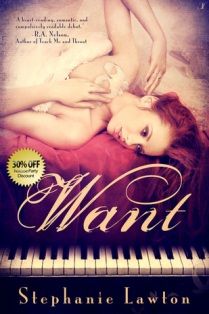 By Stephanie Lawton
Ink Spell Publishing, 2012
$14.99, Paper; $4.99, eBook
Young Adult
Reviewed by Eleanor Inge Baker
Young Adult Readers and Readers Young at Heart:
If you're looking for a steamy and emotionally taut read, give Mobile writer, Stephanie Lawton's debut Young Adult (YA) novel, Want, a try. You will not find vampires or futuristic sci-fi villains between these pages, but a string of nail biting conflicts all the same. Set in Mobile and centered around a family steeped in the dark and secretive traditions of Mardi Gras, the reader learns that things are not always as they seem.
The novel's seventeen-year-old heroine, Julianne Casquette, is a piano virtuoso who dreams of leaving the confines of her family and restrictive Southern culture for the New England Conservatory (NEC), where she hopes to be admitted to study classical piano. When her life-long piano teacher suffers a stroke, his handsome nephew, Isaac La Roche, age twenty-seven, steps in to help her prepare for her application. He is a graduate of NEC and a well known pianist in the Boston music scene. As Julianne uncovers the ghosts of Isaac's past, she begins to fall in love with him, despite the taboo of their age difference.
This is most definitely a YA romance, but interestingly at the heart of Want is Julianne's complex and abusive relationship with her mentally ill mother. She is tormented by uncontrollable sieges of viscous rage, which are directed primarily at Julianne. This is a well-handled dark and emotional subject matter. Lawton does a superb job of sketching the complexities of this destructive mother-daughter relationship. In advance of one of Julianne's mother's attacks, the reader gains this insight into her mother's mental illness:
"She laughs to herself as she stomps up the stairs—twelve, thirteen, fourteen, then five steps to my door. Just before she throws it open, I wonder what the excuse is this time…. For now I jump on the bed and back into the corner. I won't really fight her. How can I? ...This isn't really her. It hasn't always been like this."
As the reader yearns for the flawed Julianne to make good decisions, she begins to embody her mother's toxic behavior. Julianne "scrapes," a form of self-inflicted cutting. By harming herself, she lets the physical pain surpass the mental and emotional torment she feels at the hands of her abusive mother and emotionally absent father. Julianne's family lives in a culture where appearances must be kept up at all costs, so the abuses she suffers are hidden with long-sleeved shirts and her own jeering, self-protective sarcasm.
In a previous interview, Lawton revealed where she found initial inspiration for Want. She said, "I got the idea at a Mardi Gras parade in Mobile, Alabama, for one of the oldest, most elite mystic societies. One of the members' wives was standing next to us in her full fur coat (It does NOT get cold enough down here to warrant a fur coat!) and heels and pearls, and she made sure everyone around her knew that we were commoners compared to her. She was very rude, and it made me wonder what it must be like to live that kind of life with all those pretenses. I wondered if she had any kids, because I would feel sorry for them. And that's when Julianne started talking in my head."
Lawton's inspiration leads to a shortcoming of this very entertaining and overall satisfying read. Local readers ought to be aware that though the novel is set in Mobile, she does not give authentic depictions of actual mystic societies. The reader wonders why the author set her novel in such a specific place without presenting the actual particularities of Mobile Carnival. It is confusing and a bit disappointing for readers who have that expectation. To her credit, though, Lawton creates her own mystic culture, and she consistently plays by those rules. Besides, the story does not hinge on how Mardi Gras works.
One lighter aspect of the novel is that it is laced throughout with an appreciative reverence for classical music. The reader surmises Lawton must be a lover of music herself for the ease with which her characters converse about this art form and the passion with which they play. This lovely textured subculture is a pleasure to enter and one the reader accepts whole-heartedly.
As Julianne prepares for her NEC audition and her attraction to Isaac grows, a love triangle emerges with Dave, Isaac's friend from Boston, who comes down to Mobile for a visit. Whereas Isaac is dark and secretive, Dave is comedically self-deprecating and flirty. The deeper that readers enter the world of Want, the more anxious and fearful they will become about the decisions Julianne makes with these two men.
This novel differs from typical YA fiction in that Lawton deals with a myriad of difficult issues. Julianne is a complex, interesting, and immensely talented seventeen-year-old with a passion for music. It's a story of hurt, regret, missed opportunities, and redemption. Julianne must fight for her identity and her dreams of escaping her horrific home life to study piano. In Want the reader suffers and triumphs with Julianne and will be unable to put this book down.October 2012
Eleanor Inge Baker is a recent graduate of Spalding University's MFA in Writing Program. She is a freelance writer living with her husband and one-year-old son in Mobile's Oakleigh Garden District.