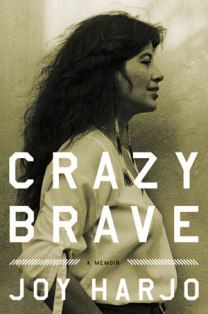 By Joy Harjo
W.W. Norton and Company, 2012
$24.95, Hardcover
Nonfiction
Reviewed by Pam Kingsbury
When most Alabama readers think of Alabama writers, Native American—or American Indian as Joy Harjo calls herself—aren't the first writers who come to mind, yet Joy Harjo attributes what she considers to be three of the most important traits of her artistry—the need for perpetuating family storytelling, the quest for justice, and the return to and fusing of tribal music with poetry in her more recent works—to her Alabama heritage. In much of her poetry, and, more recently, her memoir, Crazy Brave, Harjo has written about her family's Alabama memories, the juncture of past and present, weaving them throughout a narrative that connects her life and work to the family lore that has been passed down for over seven generations.
Born into a family of warriors on her father's side and artists on her mother's side, Harjo watched as her parents' marriage disintegrated despite their great love for one another. Sparing few details, she still manages to portray her parents' difficult and sometimes abusive marriage with great compassion and love for each of her parents. Her father, who descended from Monahwee (the Muscogee tribe), was a handsome man who drove a Cadillac and loved to dance. Her mother, who was Cherokee, French, and Irish, was a beauty who loved to sing and compose songs. Harjo's mother's second marriage was to a man who refused to allow her children to attend their wedding. Joy, the oldest of the children, was placed in the position of having to defend her younger siblings and, on occasion, her mother from his abuse. The familial dynamics became so bad that Harjo eventually started searching for an Indian boarding school to avoid her stepfather's threat of placing her in a reform school. The abusive nature of the household, paired with the poverty and racism she experienced in Oklahoma, awakened Harjo's sense of fair play.
Harjo was admitted to the Institute for American Indian Arts (a boarding school for artistically gifted high school students) in Santa Fe where she was encouraged to pursue her many interests (painting, dancing, writing, acting, and clothing design). She began to learn how to process her experience of being a "mixed blood" within the context of larger gatherings of Native people. At the University of New Mexico, she became a part of an idealistic core group of students dedicated to the ideal of Native American Civil Rights. Looking to the Deep South for inspiration, she writes, "The Civil Rights Movement awakened many of us to the beauty of our difference. We began to understand how oppression had become our eyes, our ears, our tongues—we rose up together and continued to sing, as we always had, but with more pride, a greater love for ourselves....."
Crazy Brave, which took Harjo parts of two decades to write, is a testament and celebration of the spirit. Using family lore, poetry, and autobiographical details, Harjo has created a non-linear, impressionistic memoir of the events that shaped and continue to shape her as a performer, artist, musician, and poet. The memoir—which begins before Harjo's birth and ends with Harjo's departure for graduate school at the Iowa Writers' Workshop—is, hopefully, the first volume of a life devoted to poetry. Scholars who are interested in Harjo's earlier works may also be interested in Soul Talk, Soul Language: Conversations With Joy Harjo (Wesleyan University Press, 2011).
Pam Kingsbury, a former board member of the Alabama Writers' Forum, lives in Florence, Alabama.