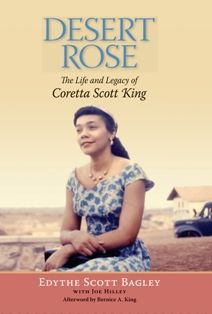 By Edythe Scott Bagley with Joe Hilley
The University of Alabama Press, 2012
$34.95, Hardcover; $27.95, eBook
Nonfiction
Reviewed by Julia Oliver
The late author of this beautifully written, well- organized biography was the older sister of the subject. As noted in the Preface, the project began several decades ago, at Coretta Scott King's request. On Thursday morning, April 4, 1968, Edythe Scott Bagley put an initial draft in the mail to a publisher. Later that day, her brother-in-law and the husband of Coretta, Martin Luther King Jr., was shot and killed. Publication of the manuscript was delayed, and eventually canceled. Many years later, in 2004, Coretta asked Edythe to take up the project again.
Divided into five sections, SOIL, SEED, BUD, BLOSSOM, and FRUIT, the book has a total of forty-eight titled chapters, in addition to the Preface and Afterword.
The family history begins with the sisters' great-grandfather, Willis Scott, a former slave in Perry County, Alabama, who took the last name of his former owner. Coretta was named for her grandmother Cora McLaughlin Scott, whose husband "had owned three hundred acres and lived well for his time."
Edythe and Coretta attended the Lincoln School in Marion and Antioch College in Ohio. Coretta received a Bachelor of Music degree from the New England Conservatory in Boston, where she met the man who would become her husband in June 1953. Coretta used her musical talent and her interest in the arts to help convey the message of the Civil Rights Movement. During the thirty-eight years of her widowhood, Coretta took an active interest in international civil rights, the anti-apartheid movement, and the establishment of the King Center in Atlanta. Her devoted sister Edythe, the author of this testimonial tribute, died in June 2011. Their children, Bernice A. King and Arturo S. Bagley, are promoting the book. July 2012
Julia Oliver is a novelist, journalist, and playwright in Montgomery.