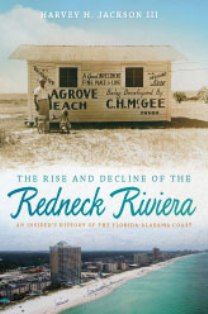 By Harvey H. Jackson III
University of Georgia Press, 2012
$28.95, Hardcover; $28.95, eBook
Nonfiction
Reviewed by Don Noble
Jacksonville University Eminent Scholar in History Hardy Jackson brings to this job all the right tools. The author of several scholarly volumes, Jackson has also shown in Alabama : A Personal History of My State that he can personalize history, narrate history, in a highly readable fashion and commit sociology in the best possible way, from personal experience and keen observation.
Jackson's chronological range in this volume is from the 1920s to the present, including a final chapter on the BP oil spill catastrophe. His geographical range is the Gulf Coast from the Mississippi border to Panama City, Florida. He acknowledges that the Mississippi Coast and Dauphin Island might have been included, but he leaves that for another day.
Jackson himself has inherited a cottage at Seagrove Beach built in the fifties by his grandmother and great-aunt and has spent considerable time there all his life.
The earliest inhabitants and visitors, mostly deep southerners, got to the beach on unpaved roads, had few amenities and no sewer or electricity, and pretty much liked it that way. World War II brought service men to the Fort Walton area and they returned after the war to vacation and later to retire.
A rising economy brought, slowly, more comfort, but not too much. Most visitors meant to relax, cook their own meals or eat raw oysters, smoked mullet, and fried seafood at cafes and be left alone. (Later tourists would demand French bistros and health food. Things change.) Tourists stayed in motels and played miniature golf. Teens danced at The Hangout.
The term "Redneck Riviera" had some validity when it was used, perhaps coined, by Howell Raines in an article for the New York Times on quarterbacks Richard Todd and Kenny Stabler in 1978. The coast—especially the Flora-Bama bar, which along with Destin's Green Knight gets a lot of highly deserved attention—was wild and woolly, some would say coarse, with a goodly mix of rednecks, bikers, families, frat boys, and some white-collar visitors, all coexisting in a kind of social gumbo.
Hurricane Frederick changed all this forever. The tone of the coast went from Redneck Riviera to Sun Belt, having undergone "involuntary urban renewal." Developers bought many small lots now swept clean by the storm, put them together, and the condo craze erupted. From one condo before Frederick there are now 104 condo complexes in Gulf Shores. Piles of money were made, but anything one might consider picturesque, colorful, individualistic, was gone. Jackson concludes, tacky was in.
In stages the condo craze went from investing to speculating to flipping. The statistics on profits are mind-boggling. Greed ruled.
Jackson examines the many issues along the coast: Snowbirds; segregation by class; increased regulation; traffic; the rise of Spring Break and its attending madness; water and sewer problems; eroded sand replaced by government, generating unintended lawsuits over property rights; problems of easy access to the beach; rising prices in good times, leading to bubble and then burst bubble; more hurricanes; some recovery and then the Great Oil Spill.
The ruggedly individualistic anti-government residents wanted no interference or regulations, but demanded subsidized flood insurance, better roads, bridges, beach renewal, and oversight and punishment for BP, that icon of unfettered private enterprise.
It is all here. Some chapters generate nostalgia, some anger, fear, and loathing. All chapters can educate us and make readers think about what they value most: sophisticated Seaside, called by detractors "pastel hell"; expensive but traditional Grayton Beach; affordable, luxurious mass-produced condos? There are few motels left. The profit is not there, and profit now rules. June 2012
Don Noble is host of the Alabama Public Television literary interview show Bookmark and the editor of A State of Laughter: Comic Fiction from Alabama. This review was originally broadcast on Alabama Public Radio.