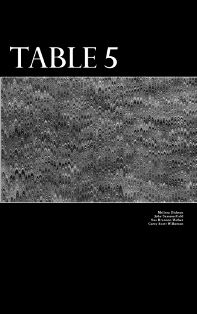 By Melissa Dickson, Johnny Summerfield, Sue Brannan Walker, and Carey Scott Wilkerson
The Halawaukee School for the Exegetical Arts, 2012
$10, Paper
Poetry
Reviewed by Aaron Sanders
Let's just say it: Gore Vidal was not being complimentary when he wrote this about Carson McCullers: "Of all the Southern writers, she is the most apt to endure." Nor is USA Today celebrating the breadth and depth of Southern writing in its review of New Stories from the South: "For those sons and daughters of the South who yearn for fiction that eschews the moonlight-and-magnolias claptrap." Talk about backhanded compliments. Talk about condescension. Go on: talk about it.
Thankfully, folks down here have heard it all before, and they're not listening. Exhibit A: the new book, Table 5. Published by The Halawaukee School for the Exegetical Arts, this book comprises a yearlong series of exchanges between four Alabama authors.
In the opening line Sue Brannan Walker writes:
There, in a corner booth, they sat at Table 5.
Amsterdam. There, not beside the Zuiderzee, not
where tulips were in bloom like poesy, but there in bouquets—floweryfruitymaltyspicy, there in Auburn,
Alabama
Here Walker makes an important declaration: we are in ALABAMA. Not Amsterdam with its embarrassment of cultural riches, but Auburn. At Table 5. And BTW, we're doing fine.
An important note: Walker and company do not sound as bitter as this reviewer. Table 5 chews on its literary utterance with its mouth open, kudzu wreaths around its head, its black shirt untucked, and a flower taped to the end of its pen. Gargle on this excerpt from Scott Wilkerson's "Omega, Felix":
Here, then, is something like a word, written first,
spelled out for you, made manifest in the modes of
miracula and fabula, sweet to the fold as cinnamon
the mouth. Press the page and ply the print as nomos
and graphos are love and loss in letters lived.
This isn't your father's postmodernism with its grinding metallic cynicism and silos of nothingness. Table 5 celebrates the joy of words—their sounds, meanings, their crisp and crunch.
"Dream, then, of gaskets and gallants, of mercy or / misery, grace and gravel," Melissa Dickson writes in "Wake Unto." Listen to "the syncopated rhythm of the hours, a repeated motif / that carried him day to day." That same rhythm carries us through Table 5 where the work embraces rather than repels.
"Is that it then?" Summerfield's question calls to mind the museum patron who confronts the paintings of Kasimir Malevich for the first time. "But anyone can do this! And what does it all mean anyway?" To which Malevich himself might say: "The world is the world, not spirit or matter." To which Melissa Dickson says: "God, that was good." To which I simply say, "Thank you."
Aaron Sanders is a fiction writer living in Columbus, Georgia.