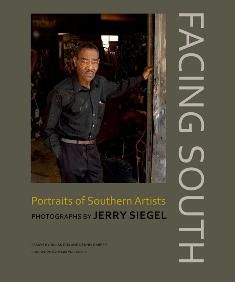 Photography by Jerry Siegel; text by Julian Cox & Dennis Harper
The University of Alabama Press / Jule Collins Smith Museum of Fine Art at Auburn University, 2012
$29.95, Hardcover
Nonfiction
Reviewed by Julia Oliver
This handsomely produced, table-size book is a collection of photographic portraiture by Selma photographer Jerry Siegel. The subjects are a hundred of the South's most celebrated artists. Each portrait is accompanied by a brief paragraph of biography. As noted in a Foreword by Marilyn Laufer, Director of the Jule Collins Smith Museum: "The project took him (Siegel) all over the South, to urban centers like New Orleans and Atlanta and down rural back roads in Alabama and Mississippi. The idea was to include them all: both established artists with solid reputations and those who remain relatively unknown…. That they were born in or transplanted to the South is part of the equation, but it is only one small element of what brought this photographer to their doorsteps." Essays by curators Julian Cox, of the de Young Museum in San Francisco and formerly at the High Museum of Art in Atlanta, and Dennis Harper of the Jule Collins Smith Museum also provide interesting, thought-provoking preludes to the photographic content.
The order of presentation is alphabetical. Each name is followed by the year in which the photograph was taken. The first artist's page features Jere Allen of Oxford, Mississippi, shown in front of one of his "expressive figurative paintings." William Christenberry, a photographer and sculptor who was born in Tuscaloosa, Alabama, is a longtime faculty member at the Corcoran School of Art. Birmingham artist Frank Fleming's sculpted depictions appear in outdoor civic collections and also in the Smithsonian American Art Museum. The photograph of the late Barbara Gallagher, who was born in Tuscaloosa and spent most of her life in Montgomery, shows her surrounded by canvases that depict her imaginary people.
One of the best-known Alabama artists, Crawford Gillis of Selma, died in 2000. Lonnie Holley, who currently lives in Harpersville, has been featured in the American Folk Art Museum in New York. Among other well-known names of artists from this state are Beverly Erdreich, Comer Jennings, Dale Kennington, Francis Lanier, Mose Tolliver ("Mose T"), John Lapsley, Charles Shannon, Charlie Lucas, Clark Walker, and Hugh Williams. Georgia, Mississippi, Tennessee, the Carolinas, and Louisiana are also well-represented in this distinguished enterprise. June 2012
Julia Oliver's column The Literary Scene appears in the Montgomery Advertiser.