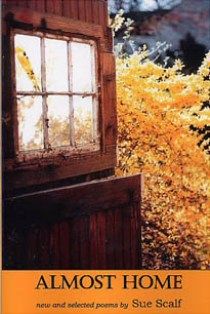 By Sue Scalf
Blue Rooster Press, 2012
$16.95, Paper
Poetry
Reviewed by Kathleen Thompson
The poems in each section of Almost Home welter (to borrow one of the poet's verbs) with a longing and searching for home, either physical or metaphorical. The irony of the title is set up in the sweeping dedication to the people of not just one, but two home states: Kentucky and Alabama.
Most of the poems of place are those of the mountains of Kentucky; however, there are always details in Scalf's poems that express an uncertainty about her feelings for this mountain home. In "Perception" perhaps she hits on it best. "Home is a place that never was, /...where iceboxes soured, / where lead pipes poisoned /...All was cheap:..." Indeed it is in the lyrical last line that true longing is revealed. The poet calls for her mother, "I'm here. I'm home."
This volume contains excerpts from five of Scalf's published books (forty-nine poems) along with seventeen new poems. If Almost Home is intended to be the magnum opus of Scalf's poetry, as its format would suggest, it might be deemed so by the imagery that crops up unexpectedly—what Nabokov would term Scalf's "divine details."
Several fine examples can be seen in "The Children of Summer," which ends with this astonishing, if old-fashioned, metaphor:
...children watch the moon
a silver quarter they're too tired to spend;
instead they tuck it away
like a coin in a handkerchief,
kept for ice cream.
Those of a certain age may have clutched such a handkerchief tied up by a parent against loss; I had not thought of this image in so many years that it was as pleasant as licking an ice cream cone.
Scalf quotes a friend in the introduction to her book, Burnt Offerings (Coosa River Books, 2008): "Poetry is not affidavit. It is art." In "Feast" William Carlos Williams is alluded to by his cold plums and by his line, "this is just to say...." Naming Williams would be redundant. The images in "Feast" are as crisp as Williams' red wheelbarrow, including a flawless description of cornflower blue, "...a field of cornflowers / bits of sky on stems."
Scalf, like Chaucer's scholar, the Clerk (...gladly wolde he lerne and gladly teche), is both imperative and instructive in her poems. There is some strength in the apostrophe, a figure of speech in which someone is addressed who is not present, but the technique may sometimes leave the reader puzzled. In "Love Out of Time, Out of Season" the poet commands, "...think of this, my friend." Scalf then paints a picture of a campus sky and a blooming pear tree, writing, "A poem waited in the broken branch / of a pear tree, a scepter of blossoms / wet and frothy with spring...." A figure enters whistling with his hands in his pockets. The speaker further instructs: "Write that one. Write it for me." The reader then ponders: Who is to write that poem; is it the poem in the pear tree or a poem about the whistler?
In "Lost Trove, Appalachia" the reader is directed to an ancestral home as if he were following a map for hidden treasure. The final line clinches the poem and the spot: "Dig here." Though some of the final stanzas in this collection are overwritten, this ending was just right.
Scalf's title poem is last, naming places in both home states. Her ambivalence has evolved to the wistful conclusion that home is not so much a place, but what and whom we love.
Although the book's title seems imaginative at first, the book as a whole suffers from an excess of references both to home and to autumn, the season, in traditional metaphorical usage, that will usher in the winter of our lives. (The word autumn was used six times in the poem "It Must Have Been Autumn" and numerous other times throughout the book, not including allusions to fall or the naming of the fall months.)
Words do give way to song in the imagery of many individual poems, but, while much of Scalf's body of work is to be admired, this particular collection, to me, may not be its best melody. May 2012
Kathleen Thompson holds an MFA in Writing from Spalding University. She writes poetry and fiction and plans to study creative nonfiction with Spalding this July in Paris.