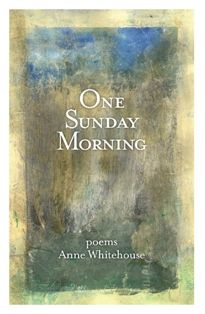 By Anne Whitehouse
Finishing Line Press , 2011
$14, Paper
Poetry
Reviewed by Mary Kaiser
In her latest chapbook, Anne Whitehouse's clear-eyed poetic vision uncovers mysteries beneath the calm surfaces of modern life. "This is my life," she affirms in "Rites of Spring," "finding one thing in another." Unclouded by assumptions, Whitehouse's lyrical voice moves from one carefully observed, imagistic stanza to another, introducing concise narratives that accumulate metaphorical power by juxtaposition, like a chain of haiku. In "Rainy Day," for example, the poem's beam of attention moves from roadside wildflowers to a woman undergoing cancer treatment, to raindrops—"A little tap at the window"—to a photographer in New York who treasures rain's "pearly and luminous" light, and then back to the garden in "the wettest June in living memory." This series of scenes, connected by imagery and by the poised stance of the speaker, find a source of spiritual growth in illness and of splendor on a city's streets.
Just out of sight, in the margins of her quiet domestic settings, Whitehouse glimpses passionate, even predatory instincts at work. In the title poem, "One Sunday Morning," for example, a couple listens, horrified, to the "deep groan . . . like thunder" of a buck attacked by a coyote in the woods behind their suburban home. In "Consolations," a World War II veteran cannot help scanning every landscape for "possible avenues / of enemy attack and ambush," in "Les Fleurs du Mal" a child is "trapped in a car" with her quarrelling parents, "hurtling down familiar roads / with no way out" and in "The Story of My Life" a woman dreams she lived "in a house underwater / And a shark broke through." For Whitehouse, the tame and the wild do not occupy separate territories but twist like twin strands through even the most regulated life.
Whitehouse's poetry is attuned to seasonal life cycles of plants and animals, to shifts in weather, even to phases of the moon. Like the groans of the injured buck in "One Sunday Morning," images from the natural world haunt the dreams and punctuate the routines of suburban living. A falcon hovers above a woman's head, her mundane day of shopping "Split through the middle / By perilous flight." On a quiet morning, the poet's thoughts are interrupted by a phone call, and although her nascent poem is lost, "The brook went on flowing." While mired in difficult memories, the speaker watches as a bee lights "on my lap" and then rises and flies away, signifying the lifting of her spiritual burden.
Whitehouse's juxtapositions of imagery suggest the influence of Asian wisdom literature, such as Zen koans and the poetry of Li-Po. That influence can be seen in lines like these that conclude "Fertile Earth," in which the speaker is working in her garden: "My body bent to my labors; my mind wandered free. / Make room! More room!" The sudden shift to the imperative voice, a command that relates equally to clearing a garden bed and freeing the mind, resonates like an injunction from scripture delivered with a sharp jolt of insight. Particularly in the poem that concludes the collection, "The Refrain," Whitehouse's tone has a gnomic power: "it was life-in-death.//I-am-what-I-am./ Amen. Amen."
In addition to her personal lyrics, Whitehouse also includes two persona poems in this collection. "Van Gogh in Arles," in the voice of the artist, recounts the emotional instability of Van Gogh's last days, yet also conveys the spiritual balance that resonates throughout these poems: "In one canvas, a feeling of anxiety; / In the other, calm, a great peace." A second persona poem, equally powerful, in the voice of a ninety-three-year-old woman, recounts a dream and the speaker's rejection of an image she recognizes as a portent of death. Called "back to life / at the brink of ninety-four," the speaker in "Rose's Dream" conveys the clear-eyed realism of Whitehouse's poetry, unafraid of reaching for the mystical, "finding one thing in another."
Whitehouse in her poems carries out E.M. Forster's injunction to "only connect." In a time when we are increasingly isolated behind the screens we carry with us everywhere, these poems urge us to recover our links to the rich, mysterious life going on outside our real and virtual windows. May 2012
Mary Kaiser lives in Birmingham and teaches at Jefferson State Community College.