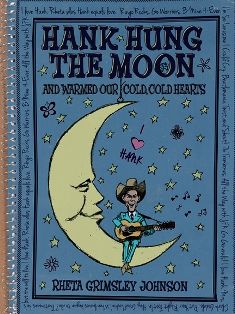 by Rheta Grimsley Johnson
NewSouth Books, 2012
$24.95, Hardcover; $9.99, eBook
Nonfiction
Reviewed by Edward Reynolds
When I saw the title of longtime syndicated newspaper columnist and author Rheta Grimsley Johnson's latest book, Hank Hung the Moon and Warmed Our Cold, Cold Hearts, I wondered why anyone would want to write about Williams Sr. The singer has been thoroughly-documented; I couldn't imagine another biography.
Johnson, of course, has been warming hearts for years with her hilarious, heartfelt, and melancholy observations of everyday people who add color to the world. In Hank Hung the Moon, she does reveal a few new tidbits about "Ol' Hank," as she lovingly refers to him, but more importantly, she invites the reader to look at the different styles of music that defined the ups and downs in her life, though she admits that Hank will always be her favorite.
Living in Greenville, Mississippi, while working at a bureau of Memphis' Commercial-Appeal, she soaked up the blues of the Mississippi Delta in juke joints and even covered a B.B. King concert at Parchman Prison in Sunflower County, Mississippi. She writes not only of King's brilliance at scorching the strings on his precious Lucille but eloquently shares how the show affected the prison population: "As concerts go, it was amazingly electric. And I don't just mean the guitar. The music was release for men who really needed it. It was a musical mockery of the walls and halls that held them, the guns that trained on them day and night. Music can lift you up, and out."
There's more than music in the Delta, however, including a Chinese grocery called The Star-Reka with a classic Johnson twist: "The Chinese butcher there was known for his whimsical meat case, replete with meat sculptures—raw and red ground beef shaped like a cow one week, pork sculpted into a convincing pig the next. Having grown up a butcher's daughter, I have and always had a true and abiding appreciation for meat; I just never realized till then you could treat it as art." A few paragraphs later, Johnson sends a jolting shiver down the spine as she tells of a young, aggressive colleague in Greenville whom she greatly respected for his "zest" for reporting. The fellow was so desperate to climb the ladder in the newspaper business that he committed the unforgiveable sin of manufacturing quotes. Realizing that his journalism career was perhaps forever tainted, the young man tragically took his own life.
The images she paints with words are memorable, especially when writing of her family. Though she hadn't been born yet, Johnson tells of her parents' friends, Wink and Frances, and Wallace and Dixie, coming to the house on Saturday nights in 1949 to gather around the radio to listen to the Grand Ole Opry and play Chinese checkers. She tosses in a pinch of homespun, light tragedy: "Wink and Frances would eventually divorce, as would Wallace and Dixie, and, most famously, Hank and Audrey (Hank Williams and wife Audrey). Mother, the queen of euphemisms, still says under her breath that someone is getting 'a Wink and Frances' instead of using that ugly word 'divorce.'" Johnson's friends believed that her handsome father was a dead ringer for David Janssen of TV's The Fugitive. She brags how her dad built a patio at their Pensacola home out of "stone and pink mortar. Pink mortar. For his girls."
The inspiration for the book was a box marked "HANK" that she found in the attic of a home she shared with her late second husband, Don Grierson, a UAB professor of journalism who had begun working on a book in the early 1980s about Hank Williams as a literary study with his ex-wife, the poet Pat Grierson. Pat passed away only a few months before Don died and the project was never finished. The box was a treasure trove of interviews with Grand Ole Opry stars, as well as stories, essays, and poems about the singer.
I agree that Hank hung the moon, but I think Rheta Grimsley Johnson deserves credit for helping it stay aglow for so many years. After all, she's been blessed with Hank's mastery at penning words, a lyrical wordsmith with the ability to thrill and soothe the soul. April 2012
Edward Reynolds is a writer living in Birmingham.