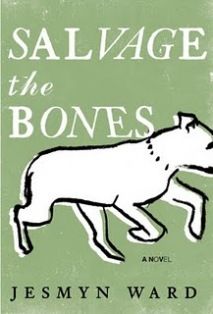 By Jesmyn Ward
Bloomsbury, 2011
$24, Hardcover
Fiction
Reviewed by Don Noble
Salvage the Bones was released in September 2011, declared a finalist for the National Book Award for fiction in October, and awarded the prize in November, before hardly anyone had reviewed it or read it. The five judges of the NBA chose it from a field of 315 novels submitted. And they were probably right. This is a smart, powerful novel and makes, I think, a permanent impression on the reader.
Ward, now teaching fiction writing at The University of South Alabama, sets her novel just inland from the Mississippi Coast, a little east of New Orleans, in fictional Bois Sauvage, based on her home town, Delisle, Mississippi, which was also the setting for her debut novel, "Where the Line Bleeds" (2008). The action moves through twelve chapters, one per day, with Hurricane Katrina arriving on Day 11.
Ward tells her story through fifteen-year-old Esch, the only girl in a family of four. Her brothers are Randall, Skeetah, and Junior, who is six. Mama died in childbirth delivering Junior, and Daddy, grief-stricken, has been mostly a useless drunk ever since. The kids raise one another in their shabby house in a clearing in the woods which is, literally, a dump.
There is a temptation at first to think of the Baptiste family as the black counterparts to Erskine Caldwell's hapless, ignorant poor whites in Tobacco Road or God's Little Acre, but this would be a mistake.
Randall, seventeen, the oldest, is about to be a senior in high school, and dreams of a college basketball scholarship.
Esch, a rising junior, has for summer reading Edith Hamilton's Mythology. She has been sexually active since age twelve, because it was easier than saying no and made her feel beautiful and loved, she says, like Psyche or Eurydice or Daphne. Now she is pregnant by Manny; her body aches and she suffers with morning sickness.
Esch longs for romance but the disappointment is a wound. Manny won't even kiss her. "Naw, Esch," he says. "You know it ain't like that."
Esch identifies throughout the novel with Medea, who loves Jason so madly she betrays father and family only to be betrayed by Jason in turn. "She looked at him and felt a fire eating up through her rib cage, turning her blood to boil, evaporating hotly out of every inch of her skin," writers Ward.
Esch's brother Skeetah feels an all-consuming love, too, but his is for his dog, a pure white pit bull, China. There is no doubt of the love. Skeetah cares for China while she whelps, caresses her, stays with her at night, steals for her, bleeds for her, and would die for her. (Perhaps because he knows what an all-consuming love is, Skeetah is the only brother to intuitively understand Esch.)
But even though China is still nursing, he is willing to send her into battle in a pit in the woods against other fighting dogs, whose owners love them, too.
These dog fight scenes are ferocious, disturbing, with snarling, deep bites and bloody wounds.
Hurricane Katrina strikes with devastating ferocity and the Baptistes' meager preparations, like those of everyone else, prove futile. They don't have much and they lose everything. Descriptions of the wind and flood are perfectly credible.
If the formula for best-sellers is to appeal to middle-aged women in the Connecticut suburbs, who buy and read books (and it is), this book will have tough sledding.
And yet, as grim as it is, Salvage the Bones is beautiful.
The writing throughout is lyrical, poetic without falling over into purple. Esch narrates in images. The characters seem real, and we want to hear their stories because Ward tells them so well and because they have never been told before. April 2012
Don Noble is host of the Alabama Public Television literary interview show Bookmark and the editor of A State of Laughter: Comic Fiction from Alabama. This review was originally broadcast on Alabama Public Radio.