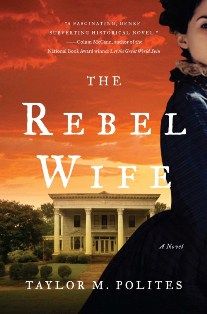 By Taylor M. Polites
Simon & Schuster, 2012
$25, Hardcover
Fiction
Reviewed by Julia Oliver
This debut novel is a very readable blend of historically detailed narrative and a finely honed, contemporary style of writing. It's told in first-person/present tense by the main character, Augusta ("Gus") Branson, who was born into Southern aristocracy before the Civil War did away with the family fortune. Her husband, Eli, who dies horrifically of a blood disease plague in the opening chapter, had been a helpful advocate to newly freed slaves, including those who remained in the household and are like family to Gus. The cast of characters includes both races.
As she orders all-black widow's attire to be made in the latest fashion, Gus, who has a young son, realizes she knows nothing about their financial situation. Her father is dead, and she must seek the advice of "Judge," her unsavory, pro-slavery cousin, who would like to commandeer her inheritance. Gus has more than money problems: she's also addicted to laudanum.
Whether or not this protagonist reminds some readers of a Scarlett O'Hara knock-off, she evolves well and is a convincing character. I haven't yet found my inherited copy of Gone With The Wind, but I believe I would prefer the cadence and sophistication of this novel to the melodrama of that one.
Presumably, the fictional setting of Albion, Alabama, is based on Huntsville, the author's birthplace. April 2012
Julia Oliver's third novel, Devotion, is based on the life and times of Varina Anne ("Winnie") Davis, the iconic daughter of Jefferson Davis.