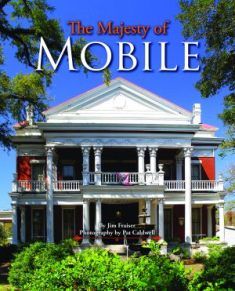 By Jim Fraiser; Photography by Pat Caldwell
Pelican Publishing Company, 2012
$24, Hardcover
Nonfiction—Photo Collection
Reviewed by Julia Oliver
As coffee table books go, this one is really stand-out impressive. The relatively compact size is good for hand-held perusal and reading, and gorgeous photography on the front and back of the jacket bids you to venture inside the covers. John Sledge notes in his eloquent foreword that such a book "has long been overdue…. Locals and visitors have always known about Mobile's rich architectural legacy, of course…but until now there hasn't been a suitably attractive and accessible volume communicating that to take home, display, and thumb through with such pleasure."
The format is arranged in historic districts: Church Street East, Lower Dauphin, Detoni Square, Oakleigh Garden, Old Dauphin Way, Midtown, Spring Hill Neighborhood, Ashland Place, Leinkauf, Downtown, Martin Luther King, Jr. Area, and Daphne.
Jim Fraiser, a federal administrative law judge/adjunct law professor and the author of fourteen books, has combined historical and humanities perspectives in illuminative narrative essays and captions. He lives in Madison, Mississippi. Pat Caldwell, who provided the brilliant photography, is a practicing attorney in Tupelo, Mississippi. March 2012
Julia Oliver's literary credits are on the website www.juliaoliver.net.