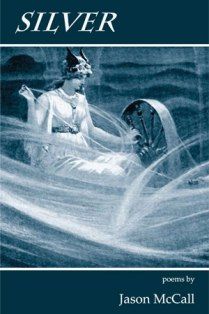 By Jason McCall
Main Street Rag Publishing Company, 2012
$15, Paper
Poetry
Reviewed by Bruce Elliot Alford
If you happened to see the 2011 fantasy/adventure film Thor, starring Chris Hemsworth and Natalie Portman, then you would probably be astonished at how easily you could notice and understand the vaguest allusions to Norse mythology in Jason McCall's poetry collection, Silver.
Who could have guessed that watching a movie based on a comic book character published by Marvel Comics would shed light on poetry? McCall tells us about Heimdall, the all-seeing and all-hearing sentry of Asgard who stands at the rainbow bridge, who "gets the urge to use his far seeing eyes to watch the valkyries bathe."
Besides Heimdall, McCall works in other figures from Marvel into his poems. We see Odin, Thor's father, and Frigga, Thor's stepmother. As well, the poet works in elements from Icelandic and Norwegian poetry. For example, the poem "Under the World Tree" alludes to the tree, in the cosmology of Norse mythology, that connects all worlds.
Here, a couple sits under its branches and contemplates the end of everything:
Clouds crumble down to earth, and you crack
a smile that asks if the beginning was as beautiful
as the end we're waiting for…
In the movie Thor, the hero-god draws the tree in a notebook for Jane Foster, played by Portman. Pop culture, autobiography and mythology combine to create a meaningful system of symbols. Accordingly, the collection's title, Silver, symbolizes a precious metal, metaphorically less valuable than gold. (Who would say, "You're as good as silver"?) Consequently, what movie critics termed "a second-tier Marvel Comics hero" becomes the perfect god for a speaker who has been broken by an unspecified psychotic episode. Readers get a hint of the speaker's struggles with mental illness in the poem addressed "To the Cute Curly-Haired Nurse Who Walked Me to the Door":
When we agreed we never wanted to see each other
again, we were only refusing circumstance.
Had we met at a bar instead of North Harbor,
my wristband would have meant
I could buy you a drink…
North Harbor, located in Northport, Alabama, provides inpatient psychiatric care for adults suffering from mental illness. From clues scattered throughout the book, one gets the idea that the speaker, who may also be the poet, suffered a psychosis that may have included a suicide attempt or suicidal thoughts and hallucinations that involved a conversation with a god. Again, none of this is explicitly revealed. What actually happened remains an unsolved mystery. The shoe never falls, creating a sustained tension throughout the book. The restraint is tantalizingly frustrating. One keeps reading to the end, hoping for the whole story to be revealed.
The mental hospital, the attempted suicide, and a psychotic episode recreate the kind of heightened setting that we find in a horror movie. After the highly-charged references that surround the speaker's psychosis, ordinary events seem, well, ordinary. It makes sense that McCall would represent an arduous life with gods from Norse mythology. He reveres them precisely because they feel powerful, yet they are vulnerable. Someone experiencing a psychotic delusion might feel the same way and be in the same state.
If you are a curious, attentive reader, then the allusions that lie outside McCall's poems might compel you to pick up a reference book or to search the internet. Mystery makes this an alluring collection and intensifies the reader's pleasure.
If you would like to sample more of McCall's poetry or to purchase his book, follow this link: http://www.mainstreetrag.com/JMcCall.html. March 2012
Bruce Elliot Alford is a poet who lives Mobile.