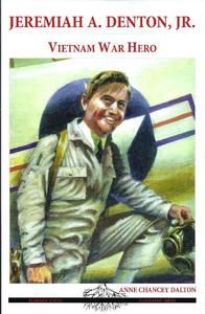 By Anne Chancey Dalton
Seacoast Publishing, 2012
$7.95, Paper
Children's
Reviewed by Julia Oliver
This 104-page book is part of the Alabama Roots series, a joint venture of Seacoast Publishing, Inc., and Will Publishing, Inc., both of Birmingham. The purpose is to provide historically accurate and interesting biographies of famous people from Alabama for students in middle grades.
If this is the first of the series (no other titles are listed), it may be a hard act to follow. Jeremiah Denton was held captive in a North Vietnam prison for more than seven years. He later became an admiral in the Navy and a U.S. Senator. As noted by the author, there have been other books written about him, and a movie was based on his life. This book offers twenty short chapters—all narrated with verve, to spur a young reader's imagination—and lots of black and white photographs.
Ann Dalton, who was a classroom teacher for twenty-six years, now teaches theatre and creative writing. She has published two historical mysteries: Massacre Island and Dream Ghost. March 2012
Julia Oliver is a Montgomery writer. Her credits are on her website, www.juliaoliver.net.