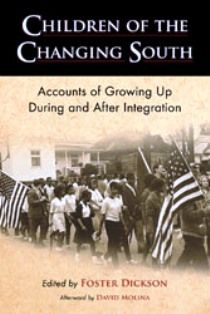 By Foster Dickson, ed.
McFarland, 2011
$35, Paperback
Nonfiction
Reviewed by Bruce Elliot Alford
This is not a boring high-school textbook. Nevertheless, you might think it is. Children of the Changing South: Accounts of Growing Up During and After Integration has that lengthy dissertation-like title and the sort of cover photograph that says, "You're in for a long day of schooling." The photograph shows a loosely-spaced group of teen-aged girls and an older black man with an umbrella lolling down a street in Selma.
After that, is a preface and then a 21,000-word academic introduction by the book's editor, Foster Dickson. (Unless one is a scholar, it might all seem daunting and dry.) But after the introduction—Wow! Suddenly, you're climbing out of a sand pit near Pascagoula, Mississippi. It's the late fifties, and you feel the desert-like sun burning your neck. After crawling out of that pit, there's nowhere to go but up.
With her "sandpit walk," Jacqueline Wheelock begins the collection of memoirs that spans five decades, from the late fifties to the early nineties. Eighteen men and women share their memories of growing up during the turbulent years within that period. They demonstrate how they profited from their parent's experiences. "My parents... were becoming adults," writes Becky McLaughlin, "enlightened adults—during the civil rights movement, and I benefited from having grown up in the aftermath of their enlightenment."
Some pieces are uncannily similar. For example, Georgene Bess Montgomery, who is black, and Ashley Day, who is white, both talk about scouring the woods and gorging on gooseberries, huckleberries, plums, and blackberries.
However, not all the actors speak in unison. The writers in this collection form an awkward Greek chorus. For example, Anne Estepp in "Why It Matters" longs for reconciliation. She even tries to get her father, a white man with very dark skin, to have a DNA test. They may have had African-American ancestors, she explains to her father. On the other hand, Camika Spencer in "1987 Tenth Grade" seems to accept the slide back into de-facto segregation. She matter-of-factly compares her term at a nearly all-white suburban school with her stay at the "School of Crime"—the black school. For her, segregation is not inherently crippling, just different, so there is no push for integration, which in the past, implied economic equality.
In "Attempts To Bury History Backfire," Kyes Stevens shows another side of the equation when she draws a strong correlation between skin color and the availability of resources. Often, the quality of education is poor because the students are African American, she states. Leslie Haynsworth, also, highlights economic disparity based on ethnicity. She compares her sensitive insightfulness to her father-in-law's inability to see anything wrong with a system that was inherently unfair: "When he was young…black women not only cleaned white households but also virtually raised white women's children." He wishes that things could be the way they used to be. He talks about the changes, she writes, "not with anger but with what seems like genuine bafflement."
Her dismay at the-way-things-are puts knots in her belly. That concern and awareness make her a good person. Likewise, Ray Morton confirms that awareness of what is wrong (his "loose use of racial epithets," for example) causes him to work at being better.
The narratives of Jim Grimsley and Lillie Anne Brown concern the theme of conversion. First, in "Black Bitch," Grimsley's white narrator tries out that epithet on the girl sitting in the desk behind him. By the end of the tale, he's repentant. (Oddly, Grimsley's child narrator sounds like a forty-something-year-old professor, but then again, some sixth graders are scary that way.) Unlike Grimsley's memoir, Brown's piece is not a "white conversion narrative." Instead, her piece is about her teacher's failure to convert her to a "more accommodating," elementary approach to black history, one that only includes Abraham Lincoln's Emancipation Proclamation but which leaves out writers such as Richard Wright, James Baldwin, and Eldridge Cleaver. On one occasion, when the teacher catches her reading in class, she tells Brown to "[p]ut all that stuff away."
Despite the varied perspectives and ages of the writers, a particular sentiment rumbles upward like a deep bass—a torn-up-by-the-roots feeling—because everything changed practically overnight.
Other contributors include Lean'Tin Bracks, poet Glenis Redmond, Stephanie Powell Watts, Dawne Shand, Vallie Lynn Watson, Ravi Howard, and Kathleen Rooney. Their memoirs read like good Southern fiction.
David Molina writes the collection's afterward.
Lastly, be warned, the book does suffer from poor editing. There are many mechanical and grammatical errors, including missing and misspelled words. However, these errors are not concentrated and might cause readers only temporary confusion.
Don't judge this book by its cover. Besides being a great read, this collection provides a valuable new perspective on Southern history. March 2012
Bruce Elliot Alford is a poet who lives Mobile.