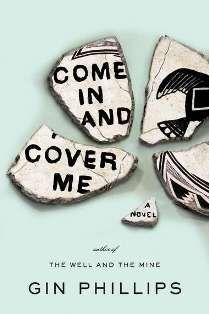 By Gin Phillips
Riverhead Books, 2012
$26.95, Hardcover
Fiction
Reviewed by Julia Oliver
Gin Phillips, who has roots in Montgomery and lives in Birmingham, received a Barnes and Noble award for her first novel, The Well and the Mine. Her new book of fiction, which also has a lilting, five-word title, is filled with mesmerizing imagery and lovely prose. There is not much evidence of narrative tension or mystery; the artistry is the hook.
The jacket text warns that ghosts are integral characters. A prehistoric girl and a woman who is/was a substitute for the girl's biological mother interact with protagonist Ren Taylor, who at thirty-seven, has long known about ghosts first-hand. Her older brother/only sibling Scott, who died in an automobile accident twenty-five years before, frequently visits her.
As the director of a museum in or near Albuquerque, Ren can take time off to go on these excursions. She is a recognized authority on "sherds," prehistoric dish-type vessels or fragments thereof. In the first chapter, Ren meets Silas Cooper, another archeologist, at an encampment where they are part of a small group excavating the site. Ren and Silas become lovers early on, and he returns to her home with her. The explicit, sensitive development and realistic rendering of this bond provide more than enough credibility to offset the centuries-old reincarnations who speak and understand modern English.
Obviously, the author did a lot of scholarly research, and each chapter begins with a quotation from an archaeological tract or article. Gin Phillips is a gifted writer of imaginative fiction that borders on poetry, but the packaging of her latest work is not appealing. Apparently, the simplistic cover art and the non-capitalization of the book's title and numerically-named chapter titles were considered to be appropriate to the primitive historicity element. Feb. 2012
Julia Oliver's literary credits are on her Web site, www.juliaoliver.net.