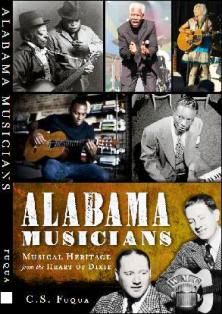 By C.S. Fuqua
The History Press, 2011
$19.99, Paper
Nonfiction
Reviewed by Danny Gamble
Arriving in time for 2011's Year of Alabama Music celebration, C.S. Fuqua's Alabama Musicians: Musical Heritage from the Heart of Dixie is an encyclopedic journey through the cotton fields, church houses, and roadhouses of Alabama. All of the biggies are here—Hank Williams, Emmylou Harris, Erskine Hawkins, three-fifths of the Temptations, Sam Phillips—with extensive biographies detailing their lives and work. Other, lesser-known artists are also included—Azure Ray (Maria Taylor and Orenda Fink), Coot Grant, Ray Reach, Ray "Dr. Hook" Sawyer. The book also includes biographies of two-thirds of Alabama's American Idol winners/runner-up. More on that later.
Alabama Musicians is divided into three sections: Alabama's Contribution to Music, Biographies, and And More: Mini-biographies. The latter two sections are self-explanatory, including bios of artists in every genre of music imaginable—folk, blues, country, gospel, shape-note, jazz, classical, soul, and rock 'n' roll. And, yes, the book includes photographs and a selected bibliography.
The book's first section offers an historical perspective of Alabama music. The narrative opens with a nod toward Ruby Pickens Tartt, "who passionately collected Alabama slave stories, folklore, and folk music." During the Great Depression, John A. Lomax brought his aluminum disk recorder to Alabama, teamed with Tartt, and recorded the voices of Sumter County musicians. Among their discoveries were Dock Reed and Vera Hall Ward, whom Fuqua calls "two of the twentieth century's greatest folk vocalists."
Not surprisingly, Fuqua devotes much ink to the Shoals area, Alabama's renowned music Mecca. Readers learn here that the area's recording industry began not with Rick Hall at the Florence Alabama Music Enterprises (FAME) recording studio, but with Dexter Johnson's converted garage. Although Johnson produced no hit records, Fuqua credits him with getting the industry rolling.
FAME, of course, brought international, well, fame to Florence with the release of Arthur Alexander's "You Better Move On." Hits by Tommy Roe, The Tams, and Percy Sledge followed. Then Atlantic Records' Jerry Wexler came to town, bringing with him "Wicked" Wilson Pickett and later Aretha Franklin. Soul was born and FAME was hot.
Fuqua is not timid in describing the infamous FAME mutiny, when the Muscle Shoals Rhythm Section—The Swampers—jumped ship to form their own Muscle Shoals Sound Studio, located at 3614 Jackson Highway in Sheffield. Rockers flocked. The Rolling Stones, Bob Dylan, Cher, Leon Russell, Paul Simon, Lynyrd Skynyrd, and many others recorded at Muscle Shoals Sound. (Though the book doesn't mention it, readers will recall that the Stones shot scenes for their 1970 film Gimme Shelter in and near the studio.)
The biographies—both long and short—contain a wealth of information about Alabama recording artists, songwriters, and producers, famous and almost famous. There are some notable absences of well-known—sometimes superstar—Alabama musicians, though. Jimmy Buffett is not here. Neither is Tammy Wynette. Nor Johnny Shines. Fuqua explains, "The basic criterion for inclusion is that the artist, or at least a member of any included band, be a native Alabamian." Buffett was born in Pascagoula, but spent his formative years in Mobile. Wynette was born in Itawamba County, Mississippi, but she began her career on the The Country Boy Eddy Show on WBRC-TV in Birmingham. Johnny Shines, born in Memphis, spent his final years near Tuscaloosa. They should be here.
American Idol second season winner Ruben Studdard seems to be omitted on a technicality. He was born in Frankfurt, Germany, where his father served in the U.S. Army. When his father's tour of duty ended, the family returned to Birmingham. Studdard should be in this book.
As should be Donna Jean Godshaux (Sheffield; The Grateful Dead), Chuck Leavell (Birmingham; The Allman Brothers Band, The Rolling Stones, Sea Level), and Johnny Sandlin (Decatur; Capricorn Records producer).
To his credit, Fuqua does recognize up-and-comers The Secret Sisters and The Civil Wars. Certainly, under Fuqua's criterion, the second edition of Alabama Musicians will include The Band Perry (Mobile), Will Kimbrough (Mobile), and The Drive-by Truckers (Muscle Shoals Sound royalty).
And perhaps it will. Fuqua notes: "Alabama has repeatedly proved itself a rich musical resource, with new stars rising each year. As the business of music adapts to an ever-changing world of technology and taste, one constant remains—the need for talent—and Alabama has and remains a state with a ready supply." Jan. 2012
Danny Gamble is the communications director at the Alabama Writers' Forum.