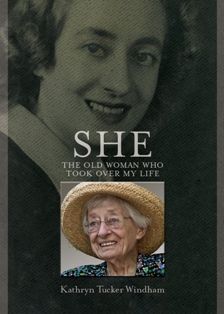 By Kathryn Tucker Windham
NewSouth Books, 2011
$20, Hardcover
Nonfiction
Reviewed by Don Noble
Most Alabamians are familiar with Kathryn Tucker Windham through her short pieces of humor and nostalgia on Alabama Public Radio or from hearing her weave her tales live at festivals. She was, surely, this state's number one storyteller. Her fans may be less familiar with Ms. Windham as writer. She has said often that when she was a little girl in Thomasville her ambition was to be a reporter and in what I think may be her best book, Odd-Egg Editor, she writes of applying for a reporting job at the Montgomery Advertiser while still in college at Huntingdon and being refused. The editor plainly told her, "I don't want any female reporters."
But then World War II approached, male reporters went into the service, and Windham went to work at the Journal and the Advertiser as a police reporter. She has been writing furiously ever since.
Many know that her first book was Treasured Alabama Recipes (1967). Few know this was followed by Treasured Tennessee Recipes, Treasured Georgia Recipes and Southern Cooking to Remember. Alabamians have loved 13 Alabama Ghosts and Jeffrey. Few realize that she also published three more Jeffrey books and books on the ghosts of Mississippi, Tennessee, and Sloss Furnaces. Windham was a professional, writing for a living, publishing, finally, twenty-nine volumes. And she was writing right up to the end.
Two years ago Windham published Spit, Scarey Ann, and Sweat Bees, a slim volume of memories of her childhood with many fascinating family photos. Further, at the time of her death at ninety-three on June 12 of this year, she was finishing this book, She: The Old Woman Who Took Over My Life.
She contains a variety of reminiscences of the recent and distant past, but it mainly concerns the changes involved in aging. Windham was, enviably, ninety when this became a problem. That was when the alter ego "She" came into the picture and took over her life. Windham writes, "I can't recall when I became aware that an old woman was nudging her way into my life." The arrival of this old woman caused problems. "She disrupts my plans, demands my attention, shames me into completing abandoned projects, requires nutritious meals…hides things from me, makes my handwriting less legible…." And so it goes.
Windham is the primary caregiver to this intruder, "She," and says, "It is not a job … I applied for." Windham deals with the vicissitudes of aging with considerable grace and candor. The biggest inconvenience of all may have been quitting driving. "It proclaims loss of independence and you dread the inevitable impositions on good friends."
But she adjusted. Everything takes longer and it becomes difficult to reach and get things, from the lowest shelves and, because one is shrinking, from the highest. Packages of peanuts and pretzels on airplanes, to say nothing of prescription bottles, are a nightmare to open. More naps are needed. Exercising with cans of soup in lieu of free weights is necessary.
Windham happily reveals a number of slightly odd practices she and "She" had taken up. Windham had a coffin built for herself by her friend the craftsman John Moss, but since she is "not in a hurry to use it" and it is not needed every day she keeps her good china and Rose Point crystal in it. Since she bakes less, the oven is for storing canned goods.
This little book is good-natured, wise, realistic but also optimistic in its way. Windham's many fans will enjoy it and She may bring her a few new fans as well. Dec. 2011
Don Noble is host of the Alabama Public Television literary interview show Bookmark and the editor of A State of Laughter: Comic Fiction from Alabama. This review was originally broadcast on Alabama Public Radio.