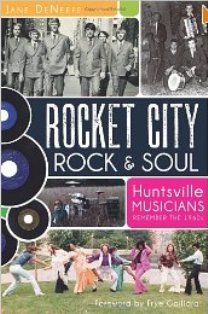 By Jane DeNeefe
The History Press, 2011
$19.99, Paper
Nonfiction
Reviewed by Edward Reynolds
No one should be surprised that the most progressive city in Alabama in the 1960s had a rock and roll scene that shook Huntsville with vibrations rivaling the ground-shaking test-firings of the Saturn V rocket engines built at the town's Marshall Space Flight Center. While NASA rocketeers aimed for the Moon, rock and soul bands aimed for stardom. After years of interviewing local musicians, longtime Huntsville resident and musicologist Jane DeNeefe has thoroughly documented the city's musical vista in Rocket City Rock & Soul, while also sharing a history of the town's societal and economic evolution. (DeNeefe also coauthored Alabama's Civil Rights Trail: An Illustrated Guide to the Cradle of Freedom.)
Alabama's embedded racial segregation was no match for the power of rhythm and blues as black and white musicians began playing together in bands despite segregated nightclubs. Nor could segregation trump the federal government. The establishment of Redstone Arsenal in Huntsville, which later made the city home to NASA's development of rockets to explore space, operated as an integrated society independent of its Jim Crow surroundings. DeNeefe writes: Huntsville was caught in a unique bind. Alabama in the 1960s had the most famous segregationist governor in the country, George C. Wallace. But Huntsville was a forward-looking federal town, home of NASA, with an important army missile base. After a long series of focused and well-organized peaceful civil rights demonstrations . . . Huntsville quietly desegregated public facilities before the Civil Rights Act of 1964.
Rocket City Rock & Soul includes a few famous names in the music industry with local ties. Two were musical pioneers who foreshadowed the transformation of Huntsville into the Rocket City with indirect mystical links between music and the Space Race. In 1936, Herman Poole Blount won a music scholarship to Alabama A&M in Huntsville. Poole had a mysterious, transformational experience there and changed his name to Sun Ra, claiming to be from Saturn as his jazz virtuosity evolved into a cosmic philosophy that focused on his mantra "Space is the place." The other cosmos-charged musical moment was during Little Richard's 1957 tour of Australia when the flamboyant pianist saw a fireball dash across the sky. He assumed it to be a sign from the Lord to give up rock and roll, so Richard promptly enrolled at Huntsville's Oakwood College, a Seventh Day Adventist school where he sang only religious material. The ball of fire that brought Little Richard to the Rocket City was actually Sputnik, which started the race to the Moon.
Probably the best-known musician to emerge from the Huntsville '60s music scene is guitarist Larry Byrom, who played with Steppenwolf from 1969 to '71. One wouldn't think that the guitarist for Steppenwolf would be a Chet Atkins, Merle Travis, and Louis Armstrong devotee, but DeNeefe reveals that Byrom was smitten with jazz and country-style fingerpicking. The rocker initially wanted to be a trumpet player playing Dixieland Jazz. "I got into music because of Louis Armstrong. I wanted to be a trumpet player, so I started trumpet lessons at the age of seven and kept those lessons up 'til I was about fourteen," he admits in the book. "So I got that instruction along the way until I got seriously involved with the Beatles, and the guitar just seemed fascinating to me. I'd always liked Chet Atkins and Merle Travis and a bunch of those guys who played a finger-picking style where you could accompany yourself. I was listening to Chet Atkins and copying his records and learning to play 'Yankee Doodle' and 'Dixie' at the same time. That was a big deal." As a twelve-year-old, he recorded two of his self-penned songs with his nine-year-old brother, with the pre-guitar Byrom playing piano. The siblings formed the Precious Few as teens, one of Huntsville's top local combos.
Ivy Joe and the Snowballs were a popular integrated group that featured an African American singer (Ivy Joe) and three white musicians. Tommy Graham, keyboardist for the Snowballs, recalls an organ he was playing at a show that had a Leslie speaker cabinet attached. (A Leslie speaker has a rapidly revolving horn inside the cabinet that provides its distinct rolling sound.) Graham says, "Well, apparently a mama rat had gone in the cabinet over the weekend and had a little litter of little tiny mice. There were probably eight or nine ladies sitting right there around me. All the sudden that thing starts spitting out these little rats—'bout cleared the place. Those poor women were up on the table screaming."
Quite appropriately, DeNeefe includes the 55th Army Band stationed at Redstone Arsenal. The racially-integrated military unit not only played the usual Sousa marches, they had an impressive selection of big band jazz, too. And they had Fred Wesley—who later played with Ike and Tina Turner—on trombone. A spit-shine Army band that could swing like the Count Basie Orchestra. Dec. 2011
Edward Reynolds is a writer living in Birmingham.