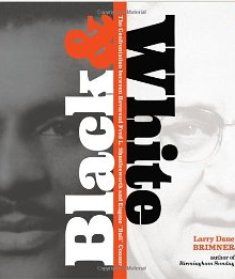 By Larry Dane Brimner
Blue Slip Media, 2011
$16.95, Hardcover
Young Adult
Reviewed by Don Noble
Few would suggest that the civil rights movement has not been adequately studied and written about. That history is pretty thoroughly documented in such books as Eyes on the Prize or the monumental Pulitzer Prize–winning Taylor Branch trilogy, America in the King Years. The Movement in Alabama has been covered by Frye Gaillard in Cradle of Freedom, and the Movement in Birmingham in particular has been done beautifully by Diane McWhorter in Carry Me Home, another Pulitzer winner. Most specifically, there has been a biography of Rev. Shuttlesworth, A Fire You Can't Put Out, by Andrew M. Manis and a biography of his antagonist, Bull Connor, by William A. Nunnelley.
Nevertheless it seems clear that young people, those born after 1990, have very little knowledge of the events that shook and reformed America in the 1960s. They simply don't read the literature on the subject. In response to this vacuum, perhaps, there are several recent young-adult books on the civil rights movement. Diane McWhorter has published A Dream of Freedom for young readers. And now Larry Dane Brimner, author of more than 150 books for young readers, has produced Black and White.
Black and White is a capsule history, in plain but not simplistic language, of the events in Anniston and Birmingham–the rallies and boycotts, the arrests, the Klan violence at the Greyhound station, the marches, Shuttlesworth's attempts to integrate Phillips High School. During one attempt, with policemen watching, Shuttlesworth was beaten unconscious on the street and his wife was stabbed in the hip. Brimner has written this as a battle between two great foes: the fiery preacher who led the protests, Fred Shuttlesworth, and his absolutely stubborn antagonist, Eugene "Bull" Connor. Brimner has cast them not as equals—a number of times Commissioner of Public Safety Connor is characterized as hateful and evil—but rather as classically epic foes, each one necessary to the other in a battle of the darkness and the light.
If Bull Connor had not been as violent and unyielding as he was with his dogs and hoses, engaging sympathy nationally would have taken longer, and freedom would have been delayed.
Brimner writes of Shuttlesworth's determination and adds "Bull did his part, too, to further the cause of equality, just as Fred had predicted he would do. He and his entrenched attitudes about segregation were the perfect foils to Fred's quest for Negro justice."
Readers will notice that Brimner throughout calls the principals Fred and Bull. I presume this is to make them seem more human and accessible, less distant. I found "Fred" and "Bull" a little disconcerting.
Most of the contents of this volume people will know. Some of the photographs, though, were new to me. In addition to the standard Bull ranting, German shepherds straining at leashes, and Shuttlesworth preaching, there are many I have not seen before. There are photos of black children in paddy wagons, a black effigy being dragged along on the side of a car, and pictures of the marches downtown at stores such as Loveman's.
There is one spectacular picture of the Shuttlesworth home right next to the Bethel Baptist Church after the bombing on Christmas night. Sixteen sticks of dynamite brought the house, literally, down, and no one was seriously hurt. No wonder Rev. Shuttlesworth felt himself called.
Advised to leave town he responded: "If the Lord could keep me through this, and bring me out of this…the war is on and I'm here for the duration….. God has saved me to lead the fight and the fight is on." The Bethel Baptist was bombed three times.
Adults may peruse this book with pleasure. Youngsters should be strongly encouraged to give it a look. Dec. 2011
Don Noble is host of the Alabama Public Television literary interview show Bookmark and the editor of A State of Laughter: Comic Fiction from Alabama. This review was originally broadcast on Alabama Public Radio.