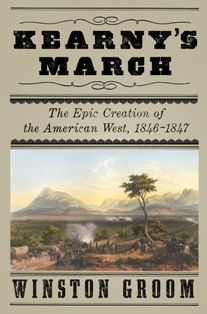 By Winston Groom
Alfred A. Knopf, 2011
$27.95, Hardcover
Nonfiction
Reviewed by Julia Oliver
Winston Groom, whose name is almost synonymous with that of his endearing, world-famous fictional character, Forrest Gump, is the author of seven novels. Obviously disciplined and versatile, Groom also has produced six books of narrative history, including this recently published opus, and numerous op-ed pieces and articles in major periodicals.
After graduation from the University of Alabama, a newly commissioned Second Lieutenant Groom did military service in Vietnam. His 1983 co-authored book Conversations with the Enemy, about the experience of an American prisoner of war, was a finalist for the Pulitzer Prize.
Kearny's March is a masterful blend of scholarly research, colorful description, and a confident, enthusiastic style of narrative writing that adds freshness and immediacy to a true-adventure saga from an era that decisively formed our country. In 1846, after Congress had voted to annex Texas and Mexico had declared war on the United States, President James K. Polk, whose mentor was Andrew Jackson, sent General Stephen Watts Kearny from Ft. Leavenworth, Kansas, to California with an army of 2,000 cavalrymen to occupy Mexican territory. The expedition included a caravan of wagons bearing settlers and families, frontiersmen, and explorers. When it ended a year later, the country had doubled in size and expanded from the Atlantic Ocean to the Pacific. As Groom notes in the book's dedication to his twelve-year-old daughter:
"Here's another story for you with explorers, Indians, generals, and mountain men—and always the heroes and scoundrels—who provide the grace and the disrepute that make our human race at once interesting and unique." Nov. 2011
Julia Oliver is a Montgomery novelist, playwright, and journalist.