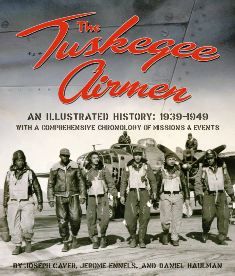 By Joseph Caver, Jerome Ennels, and Daniel Haulman
NewSouth Books, 2011
$27.95, Hardcover
Nonfiction
Reviewed by Nancy Wilstach
Danger, fear, confrontation, heroism. The legendary, history-making saga of the nation's first black combat pilots is the stuff of romance, that heady aura that surrounds a man who stares down death amid the clouds. He soars far above the earth and deep into our imaginations. It also is the stuff of these particular men's gritty determination to defend their country, never mind that it was a country steeped in rock-hard racism, a country that then would not even have let them try on a pair of trousers in a department store or drink a malted milk at a drugstore soda fountain.
The Tuskegee Airmen's stories have been told before in films, books, and museum exhibits. Yet, Joseph Caver, Jerome Ennels, and Daniel Haulman have given us that almost familiar tale with carefully researched and well-sourced new dimensions. They bring never-before-published photographs, a complete alphabetical list of the Tuskegee-trained pilots (more than three five-column pages), the whimsical emblems of the airmen's units, class pictures starting with the first five black flyers in the U.S. Army Air Force upon graduation at Tuskegee, and enough nuts-and-bolts technical aircraft information to satisfy the biggest aero-geek out there. Readers also see the parachute-riggers, the mechanics, the navigators, and the nurses who provided critical support for these pioneer aviators. We even see the Tuskegee coeds who willingly sewed patches on the aviation cadets' uniforms.
I always wondered about the lives these future war heroes led on the ground, how they found their ways to Tuskegee, what fueled their motivations, what their private lives were like, whether they were bitter about the shabby way they were treated by some fellow officers. In essence, I wanted to peer behind the wings at the gallant men who had to fight hard just to be allowed to fight harder.
All my questions were not answered here, and they may never be, but I found myself going back again and again to stare into a smiling face in a nearly seventy-year-old photograph. There they are in class, on a drill field, at the paymaster, in the mess hall, playing baseball, studying physics and relaxing with pretty girls.
One poignant pair of photos nearly brought me to tears. At the top of a page is a handsome young couple: Aviation Cadet Alexander Anderson in full dress uniform with his future wife, Hattye Grimmett, the reigning Miss Tuskegee Institute. He looks confident, yet serious about his future, as she smiles trustingly, head held high. They look so young, so innocent, yet ready for a demanding future. On the lower right corner of the same page is a full-length photo of Anderson in flight suit, goggles, helmet, hands on hips, a firm jaw, raised chin, eyes cast upward—the essence of a brave pilot. That photo is signed "With Love" to his mother and father. This book, too, was created with love for the enduring influence of the Tuskegee Airmen on the military, on aviation, and on the American principle of fair play. Sept. 2011
Nancy Wilstach, a retired newspaper reporter, now attends Birmingham School of Law.