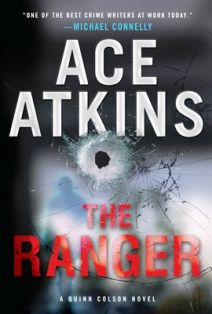 By Ace">http://www.aceatkins.com/>Ace Atkins
G. P. Putnam's Sons, 2011
$25.95, Hardcover; $12.99, eBook
Fiction
Reviewed by Don Noble
Ace Atkins, Auburn University football player and alumnus, has already had a remarkably varied career in literary crime. Atkins began as a crime reporter for the Tampa Tribune, earning a Pulitzer Prize nomination for his investigation into a 1950s murder. His first crime novels were for the Nick Travers series, Travers being a Tulane University professor of American Studies with an interest in the Mississippi Delta and the blues.
After four Nick Travers novels, Atkins chose heavily researched stand-alone novels based on famous crimes and court cases. He wrote of 50s crime in Tampa, the wickedness of Phenix City, Alabama, the trial of movie star Fatty Arbuckle, and the hapless Deep South gangster Machine Gun Kelly.
In a recent conversation Atkins admitted the research was exhausting. He had to read thousands of pages of FBI files, magazines, and newspaper accounts for the Kelly book, and in each historical novel he had to take great care with clothes, chronology, food, autos, getting every detail just right.
Living now in Water Valley, Mississippi, Faulkner country, just outside Oxford, Atkins has begun a new crime series with a contemporary setting. He assures me he knows what Mississippians today wear, eat, and drink without doing extensive research.
The Ranger is the first of the Quinn Colson books. The protagonist, Colson, has been an Army ranger for ten years, since before 9/11, and served with distinction in Afghanistan and Iraq. Stationed now in Fort Benning, Georgia, Colson is called back to the bleak, depressed town of Jericho in Tibbehah County in northeast Mississippi for the funeral of his sheriff uncle. Hampton Beckett, Quinn is told, committed suicide. Well, readers know this will be questioned. Uncle Hamp wasn't the type.
Within a few pages we learn that Quinn has not been home in six years, that his lovely ex-love Anna Lee Amsden, with "sleepy brown eyes and dark blond hair tied in a ponytail," has now married the town doctor, Luke Stevens. Quinn, of course, is not quite over her, but we also meet deputy sheriff Lillie Virgil, "…looking better than he could recall, in a black V-necked sweater with dark jeans and boots, smelling and looking very nice." The reader starts rooting for Lillie at once.
We learn that Quinn's sister, Caddy, has given birth to a mixed-race baby, Jason, and abandoned him with their mother, Jean Colson. Caddy Colson, like Caddy Compson in The Sound and the Fury, which was set a very few miles away, is "fallen," involved with drugs, and is a pole dancer, lap dancer, at least. There are several bits of homage to Faulkner. There is even a Varner's Quick Mart.
Atkins has conjured up several delightful villains. Johnny T. Stagg "came from a family of hill people, moonshiners and dirt farmers who were unfit for society. They all possessed that same bright red skin, even in the winter, and crooked teeth stained brown from muddy well water." Stagg is pretty awful now, a "developer." But he got his start "working angles at a shithole retirement home, getting the elderly to sign away their family land for his comforting friendship." Stagg now claims to own Uncle Hamp's farm.
As if Stagg were not bad enough there is also a lower form of Snopes, the vile Gowrie, a cattle rustler, meth dealer, and racist right-wing militia lunatic. Gowrie is skinny, evil, covered in Confederate flag patches and tattoos, with "very uneven yellowed teeth." A lot of his gang, meth heads, have bad teeth or few.
There is also Lena, a pregnant runaway girl from Birmingham. The present sheriff, Wesley Ruth, is no better than he should be, and the reader has suspicions about retired Judge Blanton, too. There are hookers at Stagg's Rebel Truck Stop and several unsolved murders around the county.
Ranger Colson goes to work, and the novel moves fast and furious. Quinn gets help in his search for justice from pretty Lillie and an old alcoholic one-armed Iraq vet, Boom Kimbrough. There are shoot-outs, ambushes, a taste of High Noon, and lots of serious wounding and killing.
Atkins has placed on the stage of The Ranger a huge cast of characters and only a few are killed. Of course, not all the issues are resolved, not all the loose ends tied up, but this is the first of a series and Quinn has to have something to do in the next novel, right? Sept. 2011
Don Noble is host of the Alabama Public Television literary interview show Bookmark and the editor of A State of Laughter: Comic Fiction from Alabama. This review was originally broadcast on Alabama Public Radio.