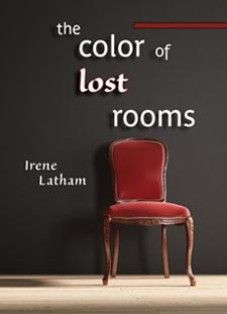 By Irene Latham
Blue Rooster Press, 2010
$14.95, Paper
Poetry
Reviewed by Sue Brannan Walker
Irene Latham's The Color of Lost Rooms is a museum of art, history, literature, and the long treasured artifacts of the human heart. To open the book is to take a museum tour, to stop and revel in all that is found there.
"Voice-Threads" in The Art Room
To absorb the richness of the poem-paintings on display, it is necessary to linger awhile and take in the marvelous connections that link poem to painting, painting to poem in a chiastic interchange that reveals in various angles of light. By means of voice-threads, viewers are able to "hear" as well as see rare and exquisite compositions of art, the synthesization of painting and poem. It is possible to "listen in" by means of "voice threads" as "the maid asks" Frida Kahlo: "must you leave / New York so soon?" And then hear her reply: "it is / just the smell of last week's uneaten fruit // that makes me long for La Casa Azul" ("My Dress Hangs There"). The Art Room is a commingling of voices so thrilling and poetic that the viewer seems to be able to step right into the poem-painting and live there.
A whole morning may be spent just reflecting on the paintings' lines, their colorful phrases, on the stories that each painting tells. Again, in "My Dress Hangs There," the shades of pain unveil Frida Kahlo, brush in hand, as she catches glimpses of the self she will become.
Mothers are ever the subject of art, and depending on the intricacies of the composition that constitute the chiaroscuro of painting and the artist-poet's vigor of mind, "Cherries in the Sun (Siesta)," shines forth with its unforgettable initial opening: "You can sleep when you're dead" that authentically renders "tone." The verberations and reverberations of a Mother's voice outlast time. In close proximity, within the reader's mind, lies the scape of "Black Dress," and though its label declares "Handmade with love," the garment is placed "in a garbage bag, left at the curb for a truck to carry away." As the poet-artist has realized: "We learn about love too late."
The History Room
It is here that the viewer knows what Martin Luther King, Jr., meant when he said: "We are not makers of history. We are made by history." The past is never past, and in the History Room, "Abe Lincoln Speaks of Mary Todd," and tells of how "a man who grows up in the woods / knows the wild will always be wild, / and love is not about taming." With history, there are always lessons to be learned, such as "How the Sacagawea River Got Its Name." There are discoveries to be made and revelations as to why "Einstein's Daughter Questions Her Father's Theory."
The Library
This room houses literature. There are numerous tables and shelves of books, and an inviting red chair that seems to ask the visitor to sit awhile and linger over words, learn "Why Hester Prynne Still Loves the Color Red," learn "what tenderness there is in drowning." It need not be stated that literature, with its many testimonies and manifestations, poem and story, is a timeless and ever-enduring rendering of art. Here in this expressive and "wordly" room that intertwines poem and painting, art is preserved: a "Postcard from Mars" that scribes the landing on "Endurance Crater," and "Baby Ruth's Letter to Dolly Dimples, 1941," with its sad humor of truth. Not to be overlooked, too, is "Plate 13 from Dissertation in Insect Generations and Metamorphosis in Surinam."
One visit is not enough to take in all that the museum has to offer, the exquisite coloring of words, their sure phrasing, the exactness of each composition. With a degree of luck, it might be possible to find Irene Latham sitting in a leather chair in the living room. She will have a pen poised in her hand, ready to sign a copy of The Color of Lost Rooms. But first, visit the gift shop on the ground floor and buy a copy of her book. Buy two copies, for it is a perfect gift. And then meet the artist, the poet herself—who won the book of the year award from The Alabama State Poetry Society for What Came Before, winner of a 2008 IPPY Independent Publisher's Award, and who receives continued acclaim for her novel Leaving Gee's Bend. Sept. 2011
Sue Brannan Walker is the Poet Laureate of Alabama and the Stokes Distinguished Professor of Creative Writing at the University of South Alabama.