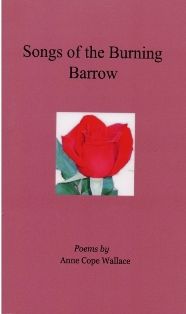 By Anne Cope Wallace
Summerfield Publishing/New Plains Press, 2011
$14.95, Paper
Poetry
Reviewed by Kathleen Thompson
A funeral pyre and a vibrant Veteran's #2 rose: what contrarieties does this book of ninety-one pages hold beyond its cover? Wallace confirms in her brief preface that she has discovered such collisions of "music and cacophony," their "sounds of sorrow and song, grief and joy" wherever she's traveled. Indeed her poems in four numbered sections hum along from darkness to light, from grief to acceptance, and from weakness to power.
Dreams and dark angels pervade the vocabulary of Section I. By my rough count dream is used fourteen times in the first two sections. In "The Dark Angel" worries intensify at night in the subconscious state of "thin dreams." The reader senses great loss and grief in familial situations, but the poet grips the causes like a steering wheel, holding them at bay as she does with the "contained grief" in "Journey": two people travel together until the road forks left and "…you dissolve / as the road will / to shuttered vision, / my path curves into wind…." The repetition of "dark dreams" suggests to the reader there is some greater darkness, some grief that is not at all spelled out, the whole of the struggle not revealed. Clearly something is amiss: too much nostalgia, too many departures and goodbyes. Even the intoxicating parks in Savannah are "squared off like Jackson in a duel."
"Yellow Kitchens" concludes this troubling first section with
"… all our dreams / of open windows / yellow kitchens, / lost, lost." The poet sings of a shattered relationship, but stops short of a tell-all.
"Improbable Visit, San Miguel de Allende," the first poem in Section II, is a signpost for that section's contents. Whereas a poet might be expected to wallow in the "divine details" of being in this place touted for its expatriate writers, Wallace dwells still on "…dark dreams, lightning dreams / brilliant and scary and quick." She does, however, begin to exercise the craft more visibly; repetition is particularly effective in "Holiday – San Miguel de Allende." And "In San Miguel" seems to serve as an overarching metaphor for this entire collection: "they love the macabre and the beautiful / set side by side, /…."
Section III detours away from the darkness into places of light and water, the latter always a redemptive and restorative symbol. Settings move from a long pond to a lake, to an island, and then to a small pond; yet some heavy minor chords remain. Together at the end of this section, "Night Ride, Passing the Nickerson Bike Trail," the witnessing of a car killing a deer, and "Treasure Hunt," the recollection of a child's search for an absent father, nearly hurtle the reader back into that other morose place. What prevents that is the poet's stance, somewhat confident now, confronting grim reality: "The deer is dead, is surely dead…." And if the woman falls short as a "woman-man, half Odysseus, / half Penelope," the assertion alone is strong.
The poet accelerates into Section IV, being coached by a son in "Streakers, Strummers, Slam Dunkers" and singing praise to a young daughter in "Love Letters." Fully in control, "Woman at the Wheel" has no dark angels or dreams: "I am an all powerful woman. / I slip over bridges, / across wrinkled green oceans / grasping planets of ice / and stars in my fist." And in her wake, "Twelve healthy dragons / breathe my blue fire."
Wheee….step on the brake. Take a breath. Turn the page: "Into My Woman Skin." Here the survivor emerges—she has had the hard knocks, yes, but here is a woman who "swallowed the rhododendrons, / blossoms and all / …and see light lighting my fingers, / light in the ribs of my heart…."
Here Wallace leaves the Romantics to eat her dust. And here the road trip should end. The final poem that follows, "Songs of the Burning Barrow," as welcome and necessary as it would have been earlier, is as anticlimactic as pulling into a service station with a full tank. Remember the planets and stars in the woman's fist, and her breath of blue fire? The poet, by this time, has already "wheeled a burning barrow of ghosts onto the lawn" and will have no apprehension when the ghosts "rise again / to whimper…."
Like Picasso, Wallace has moved on: all bets are off now on the mere representational. This final section has all the daring and mystery of Picasso's angular nudes in Les Demoiselles d'Avignon. You go, girl. Sept. 2011
From the publisher : Please allow two-four weeks for delivery when ordering Songs of the Burning Barrow online.
Kathleen Thompson is the author of The Nights, The Days, and The Shortest Distance.