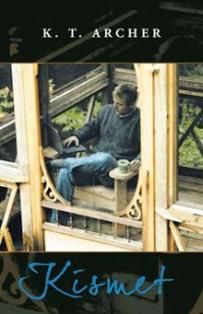 By K.T. Archer
iUniverse, 2011
$27.95, Hardcover; $17.95, Paper; $9.99, eBook
Fiction
Reviewed by Marianne Moates Weber
When Alabama author K.T. Archer completed her first novel, The Silver Spoon, she knew she had created a character in Lizzy Wallace that would have many more adventures. The latest for the protagonist is in Kismet, where Lizzy focuses on rebuilding her own life rather than being swamped by the family drama in The Silver Spoon.
Today we find the self-reliant Lizzy back at work in the hospital along with her close friends, Kay and Spencer. The friends see changes in Lizzy as she becomes withdrawn from life after a divorce and the deaths of several family members. She is a mere shell of the vibrant woman she once was. Lizzy spends entirely too much time working or sitting at home with her pal, a parrot named Charlie. Not too much fun there! Kay decides that Lizzy needs some restoration and a bit of spark in her life. So on the sly, Kay turns to social media—today's dance hall—and posts Lizzy's profile online at MyLoveLife.com. Lizzy cannot help but be intrigued by the messages popping up from men wanting to know more about this lovely, unattached female.
In her online encounters, more of Lizzy's character is revealed and we learn that she's still coming to grips with the fact that she's without past anchors. She's a woman adrift, looking for a port. So how does she move forward? With courage and grace, she struggles with issues shared by many women Lizzy's age (thirtyish) who fret over weight, wardrobes, broken relationships, careers, and of course, the age-old question: "Will I ever find love again?"
It's fun to read about Lizzy's online romances and see if she will find true love. Along comes Dale, a man that just possibly is someone with whom she could build a future. But there are no simple resolutions because Dale has his own challenges, notably a teenage daughter that lives with him. He has an ex-wife and his career, and he and Lizzy live in separate towns. Ah, but will love reign?
Much has happened to Lizzy since we first met her in The Silver Spoon, and now in Kismet, she cannot run away from fate. For anyone who has found online romance, or thought about trying to do so, Archer makes the experience real. This is a delightful book, and Archer left me looking forward to Lizzy's next adventure.
The Silver Spoon is an Editor's and Reader's Choice winner. Perhaps Kismet will earn equal recognition.
K.T. Archer and her husband live in Montgomery. Visit her at www.ktarcher.com. Sept. 2011
Marianne Moates Weber is a freelance writer in Prattville, Alabama, and author of Truman Capote's Southern Years.