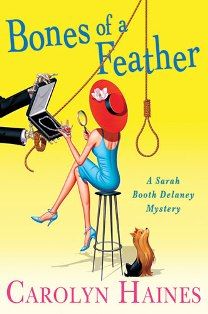 By Carolyn Haines
St. Martin's Publishing Group, Minotaur Books, 2011
$24.99, Hardcover
Fiction
Reviewed by Don Noble
Carolyn Haines of Semmes, Alabama, has now published eighteen novels and is the winner of both the Harper Lee Award and the Richard Wright Award. Things are going well. Bones of a Feather is the tenth in her very popular Bones series.
Sarah Booth Delaney's home place is Dahlia House, Zinnia, Sunflower County, in the Mississippi Delta. But Haines cannot set all her mysteries there or the population would be, literally, decimated, so Bones of a Feather is set in historic Natchez.
Sarah Booth and Tinkie, her diminutive but feisty partner in the Delaney Detective Agency, are called in to help the Levert sisters, Monica and Eleanor, owners of Briarcliff, a mansion on the bluffs over Natchez, and the heirs of the Levert fortune. That fortune had been accumulated by their antebellum ancestor, Barthelme Levert. He was a highwayman, kidnapper, and cold-blooded killer. So the Levert sisters, while descended from a fine old family, as the saying goes, may have a compromised ethical genetic inheritance.
The sisters claim to have been robbed of a four-million-dollar ruby necklace and need the Private Investigator's report to hasten the insurance pay-out. It all seems straightforward enough at first, but of course it will not turn out that way. These are murder mysteries, after all.
Sarah Booth and Tinkie perhaps wouldn't have taken the case if it seemed dangerous. In this novel both women have promised their men, Tinkie's banker husband, Oscar, and Sarah Booth's fiancé, the movie star Graf Milieu, they would not get into mortal danger any more. It would break their men's hearts to lose them. (Sarah Booth had a close call in Greedy Bones.) However, events proceed. The plot thickens. Soon it evolves, as you knew it would, into fraud, kidnapping, and yes, murder.
After about 100 pages, the detectives need support troops, and Haines brings over the Delaney antebellum black haint Jitty to give advice and Cece, Sarah Booth's transsexual journalist friend, to help out. Haines can't plausibly bring in the rest of the Zinnia gang and that is too bad because the whole posse working together, with the psychic Tomeeka, café owner/gatherer of rumors Millie, and Sheriff Coleman Peters, make a nice ensemble. I missed them.
Like some of her others, especially Wishbones, set in Costa Rica, Feather involves a gothic house, with fog, mist, and secret passages. Sarah Booth behaves from time to time like a teenage girl in a slasher movie and goes into abandoned barns, dark rooms, tunnels, basements, etc., while the reader screams to himself, quite sensibly, "Don't do that."
This novel is altogether darker and more serious than usual, and I missed Haines' considerable humor. There are many plot twists, perhaps too many. More and more characters show up and none can be trusted—the distant cousin, the gardener, the long-lost heir, not even the local police chief.
Haines is famously a rescuer of horses and dogs and in this novel there is a magnificent black Andalusian stallion named Lucifer. The dogs, Sweetie, Chablis, and the newcomer, Roscoe, have heroic parts to play—Deep South Rin Tin Tins to the rescue.
Haines fans will love this novel. They're already hooked. Newcomers to the series might prefer to start with the first, Them Bones, where the characters are established, or enjoy the humorous cooking school Bones, Bone Appétit. Sept. 2011
Don Noble is host of the Alabama Public Television literary interview show Bookmark and the editor of A State of Laughter: Comic Fiction from Alabama. This review was originally broadcast on Alabama Public Radio.