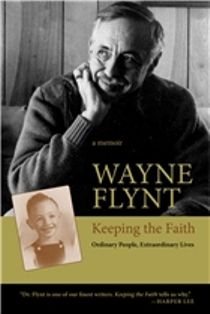 By Wayne Flynt
University of Alabama Press, 2011
$29.95, Hardcover
Nonfiction
Reviewed by Norman McMillan
Wayne Flynt's memoir, Keeping the Faith: Ordinary People, Extraordinary Lives, is an excellent read for anyone, but it should be required reading for Alabamians. Through the prism of his own life, Flynt addresses some of the most profound issues Alabama has faced over the years and shows how the state has failed to deal with them adequately.
This is no ordinary memoir. Although Flynt arranges his material chronologically, he does not present his unfolding life with the objective dramatic approach of a novelist. Rather, he looks analytically for the most part at various themes (e.g. politics, race, religion) that are recorded in the subsections of the book. Although he gives us marvelous portraits of his ancestors, of his parents and other kinfolk, and of his wife Dartie and his sons David and Sean, this book is far more an account of Flynt as a public figure—as scholar, teacher, speaker, and writer—than of the private figure. Even something as deeply personal as his evolving religious consciousness never moves far from its relationship to larger social issues. But this placing of the private life in a larger context is, indeed, the strength of this memoir.
The only child of a salesman who constantly moved his family from place to place and a mother who became a schoolteacher, Flynt early on showed signs of being public-spirited. In 1961 he penned his first letter to the editor, answering a writer who had praised "the good Christian men believing in our Anglo-Saxon heritage of freedom" who had beaten Freedom Riders in Birmingham and other cities. And he has been writing ever since, with courage and conviction, never fearing to step into the lion's jaws. For example, he gives an excellent account of the 1990 Legislative Prayer Luncheon, where he presented unflattering evidence of Alabama's failure to address the needs of its poorest citizens. Attending that day was Governor Guy Hunt, who took great umbrage at his comments and responded angrily, and the event was covered by the press far more widely than such events usually are.
I think it is fair to say that Flynt's concern for the poor and the disadvantaged, whether victims of racism or of a rigid class system, shaped his work as a scholar more than anything else and placed him in the forefront of public discourse on these matters. He was indefatigable, taking his gospel from one end of the state to another, earning from many fellow citizens the designation of "the conscience of Alabama."
Flynt says that the failure of Alabama's institutions to address the state's many problems infuriated him, and in several places in the book he suggests that he inherited his father's fiery temper. But for the most part that temper found direct outlet in his private journals. His writing, speaking, and actions most often reflect an admirable moderation. It seems he took a stronger measure of his mother's stoical acceptance than of his father's anger. As a historian, Flynt naturally takes the longer view, understanding that change almost always comes slowly. But he consistently seems to know who the enemies are, even as he meets them with admirable calmness and lack of vituperation. After reading Flynt's account of Bobby Lowder's appalling interference, not only in Auburn football but also in the University's academics, I found his restraint quite amazing when he describes Louder's later business failures with only the slightest intimation of schadenfreude.
Flynt's strength no doubt is due in part to his strong parents and grandparents, and he always took comfort in like-minded colleagues who supported him. But this memoir makes it very clear that his greatest strength throughout his life has come from his religion. An ordained Baptist minister, he has remained an active member of Baptist congregations all his life, save for detouring into Lutheranism for a year while a graduate student in Florida for reasons of conscience. At the heart of his religious belief was the notion, as he put it, "that the Kingdom of God was not some event that would occur at the end of time but must be implemented by us now in acts of righteousness and justice." This idea, which, as he points out, has a history in the Baptist church, seems to have guided him both within the church and in his life as a scholar and public intellectual. The Bible remained for him a great teacher, and his motto might well be seen in the words from Proverbs that call for good people to speak up for the destitute and defend the poor and needy.
Much of the content of Keeping the Faith will have a familiar ring to those who have paid any attention to events in the state of the last half-century, but for most of us our knowledge is quite fragmentary. Flynt, in his memoir, has put it all together for us as only he could, as an activist who entered the arena and fought the good fight. And luckily for this state, Flynt, now retired for six years, remains active in his efforts to help bring about justice and fairness in this state and nation. This fine memoir is just the most recent installment in his remarkable efforts. August 2011
Norman McMillan, an emeritus professor of English at the University of Montevallo, is the author of a memoir, Distant Son: An Alabama Boyhood.