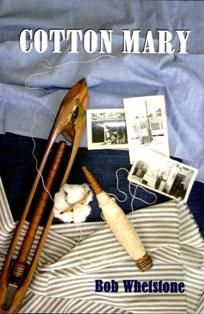 By Bob Whetstone
Lulu Enterprises, 2011
$35, Hardcover
Fiction
Reviewed by Bill Plott
Bob Whetstone, professor emeritus at Birmingham-Southern College, came from an environment far, far away from academia. He grew up in a cotton mill village near Alexander City, a childhood that generated this book.
Cotton Mary is the life story of Mary Christine Tarley Stone, a young girl growing up with an abusive father, forced into backbreaking labor in the cotton fields and orphaned and pregnant as a young teenager. Life is a roller-coaster ride of exhilarating highs and stomach-aching lows for Mary.
The book, beginning in 1932, opens with Mary leaving her gentle aunt's home. It takes her to work in the cotton mills, to marrying Cliff Stone, a Greek immigrant, and to the birth of their children. Life is often a struggle but eventually they own a small restaurant. Then, Cliff is drafted. He returns from World War II, obviously suffering from post traumatic stress disorder.
Unfortunately as these ups and downs carry the reader along in Mary's life, the entire narrative is just an outline of that life. Whetstone wants to show us the horrors of cotton tenancy and mill labor but only tells us they are bad. There is no detail, no explanation for why they are bad. None of the experiences of his youth and the countless workers interviewed in his research are shared as an anticipated composite of Mary's life. The closest we come to those experiences is when Mary, looking at her Ten Year Service Award from Cherokee Mills, shouts: "Damn the cotton mill, damn the spooler room, damn that mill village, and damn the Cramers, damn them. I spent half my life working my tail off to make those Cramers richer and for what, that worthless piece of junk. And they refused to give me a cent of my retirement money that I earned fair and square, not one red cent."
Even Cliff's PTSD is somewhat shallowly observed although it is there that Whetstone begins to flesh out Mary's story. From that point there is a significant maturation in the writing.
In the closing pages Mary–now elderly, blinded by glaucoma, and convinced, perhaps with good reason, that her children are indifferent to her plight–begins to contemplate suicide.
She sells her car to a black minister and part-time senior citizens van driver for a dollar. She gives away much of her furniture to a family whose home had burned. She makes other last days preparations while putting her late husband's .22-calibre pistol at easy reach.
In those final pages Whetstone creates a page-turning tension lacking in earlier chapters. Does she do it? Not fair to say, but it salvages a story that had been somewhat unfulfilling to that point. This could have been one of those massive family sagas. Whetstone took a simpler approach, but it is an enjoyable read nonetheless. August 2011
Editor's note: Proceeds from the sale of Cotton Mary will go to various humanities organizations.
Bill Plott is a freelance writer and retired journalist in Montevallo.