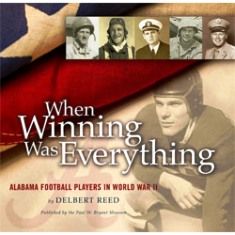 By Delbert Reed;
Foreword by Paul W. Bryant Jr.
Paul W. Bryant Museum, 2010
$39.95, Hardcover
Nonfiction
Reviewed by Don Noble
In 1942, at the request of the War Department, John Steinbeck wrote the short nonfiction book Bombs Away, about the training of bomber crews for the U.S. Army Air Corps. While Napoleon may have been defeated "on the playing fields of Eton," Steinbeck is sure bomber crews become highly cohesive, smoothly functioning units because "[f]rom the time of their being able to walk, our boys and girls take part in team playing. From one ol' cat to basketball, sand-lot baseball to football, American boys learn instinctively to react as members of a team."
If this were just another Alabama football book I would neither read it nor review it. The world does not need another game-by-game, play-by-play recapping of another however-glorious season. Even the title I take to be a subtle variation on the dubious pronouncement "winning isn't everything; it's the only thing." Football is a serious game, true enough, but war is not a game at all.
This highly readable, informative book is in part about football, but it is more about the roles that Alabama football players and coaches took in the fight against the Axis Powers in WWII. It should come as no surprise that young, patriotic, disciplined, physically fit men signed up for the service and that they were highly desired.
Approximately 325 of the Alabama "football family" served. Of those 325, 13 players and one team manager gave their lives. (There were 6,000 from UA total, with 343 men and one woman killed.)
Of the 1941 team, 55 of 61 joined. Of the 1942 team, 58 of 59 served. In the last home game of 1942, several players joined the U.S. Marines at halftime. So few players were left on campus that there was no 1943 squad.
When Winning Was Everything is divided into sections, by service, with a separate chapter, "The Highest Price."
Each of these chapters contains a brief biographical summary of the man, (a surprising number were from Arkansas), a summary of their football careers, and then a look at their service careers, and, in some cases, like that of Lt. Paul Bryant, a longer look at their post-war careers.
Each chapter has photos from football days and appropriate photos from the theatres in which they served, if not of the man himself in action. One section, "Reflecting the Time," features charming color posters and football programs from the era.
Charley Boswell lost his sight in combat in Germany and later became the best blind golfer in the world. Ed Clark helped liberate Dachau, and the photos that accompany his section are as disturbing as ever. Holt Rast saw 304 days of combat over a period of three years in several theatres of war and may be the most decorated of all the servicemen discussed. William T. Van de Graff, UA's first All-American in 1915, may have been the oldest player to serve. Tom Borders, who was himself killed on December 26, 1942, over Tunisia, was the first American to shoot down a German plane in World War II on August 17, 1942. Roy Johnson, who logged 35 missions as a bombardier, may have been at 5'2" the smallest man ever to play football at UA.
The most dramatic story in theatrical terms may be that of Hugh Barr Miller Jr. After his torpedoed ship sank, he ended up alone on Arundel Island in the Pacific. During the thirty-nine days the Japanese searched for him, Miller, wounded and starving, killed fifteen of the enemy.
These entries vary widely of course, but many of the vets, or their families, said some of the same things. A number felt their lives were saved by the bombing at Hiroshima and Nagasaki, and almost none of them talked much at all about their wartime experiences.
A moving and most unusual entry was that of Johnny Roberts, Navy pilot. Roberts was infuriated by the Japanese Kamikaze pilots. "Do those damn Japanese think they are trying to teach Americans what it is to be heroic?" According to reports at the Battle of Midway, flying off the carrier Enterprise Roberts missed the Japanese carrier Kaga with his bomb and then "kept right on going down and flew his plane into the Kaga's funnel." Dr. John Ramsey, UA professor and military historian knew Roberts as a student and said that "certainly anyone who knew Johnny Roberts as we did will agree that he was quite capable of doing exactly [that]." July 2011
Don Noble is host of the Alabama Public Television literary interview show Bookmark and the editor of A State of Laughter: Comic Fiction from Alabama. This review was originally broadcast on Alabama Public Radio.