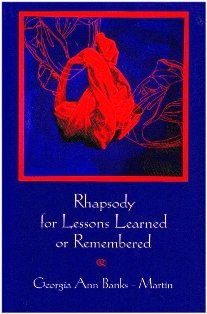 By Georgia Ann Banks-Martin
Plain View Press, 2010
$14.95, Paper
Poetry
Reviewed by Bruce Elliot Alford
Georgia Ann Banks-Martin particularizes the homiest of subjects, which ironically, charges them with emotion. A splinter is small, but when stuck in your hand, it feels large.
She creates no distance between herself as a writer and herself as speaker. Her voice, which runs throughout the collection, creates a narrative pull and suggests connections.
A number of her poems are about sewing, washing, cooking, picking vegetables, and shelling. These things take patience. In a poem titled "Patience," the speaker's mother makes flowers from discarded clothes, "from tattered ties / shirts and trousers." The poem's last lines end and turn like a sewing needle, mimicking the patience her mother once used when sewing.
A few of the poems in this collection are politicized. For example, in "Portrait of American Hope," a Katrina survivor sits, perhaps on some steps, with her "head and shoulders draped / with a red, white and blue flag."
"Madonna and Child" explores the implications of blindly accepting one's culture and its representatives.
Banks-Martin writes:
My Priest said Jesus had golden hair,
was the son of Mary and Joseph;
was crucified for my sins—and I believed,

Not knowing children attending segregated
schools learned white people were good;
black bad, that black children preferred
pink dolls to those who were chestnut[....]
As a child, the speaker in the poem tried to make sense of the difference she saw between her mother and herself. Her own "olive skin" "never hid [her] blue veins." However, when she ran her finger along her mother's arm, looking for "the same slender cables," she was disappointed. "[T]he mahogany didn't break."
Other poems might make some readers laugh. In "Denial of Appeal," the speaker is sitting in a nearly-deserted mall when a woman, wearing too much makeup—liquid liner, false eyelashes and loud red lipstick—passes by. The man across from her says that women don't need makeup as he puts his hands in his pockets and gives his pants a tug, "trying to hide his erect penis." The speaker smiles and wonders whether a group of plain-faced, nude women would be less appealing to him.
Most of the poems in this collection reveal snapshots of everyday life. The poet leaves meaning-making up to readers. For example, an old house and a wooden fence remind her of mischievous children and a white dog with a black ring around one eye—an allusion to Our Gang, the children's comedy film shorts of the 1920s and 1930s—but become the occasion for appreciation of natural beauty, "a strand of morning glory twisting / around the tall silver grass" ("Seasonal Rain").
In "South Carolina Morning or Cape Cod Evening," she writes, "I could be one of Hopper's women." Artist Edward Hopper's paintings often depict a woman waiting for someone or waiting to go somewhere. They simultaneously suggest possibility and closure. Similarly, many of Banks-Martin's poems are open ended. A few readers might not like the way she stops some poems or doesn't explain an image, but this abruptness might appeal to others, especially because this move doesn't seem incidental. It is her style.
The poems in this collection are clear, meditative, and funny. Rhapsody for Lessons Learned or Remembered captures life on the vine. July 2011
Bruce Alford is a poet who lives Mobile.