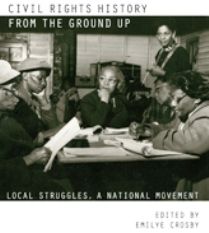 By Emilye Crosby, ed.
University of Georgia Press
$69.95, Hardcover; $26.95, Paper
Nonfiction
Reviewed by Julia Oliver
These essays by twelve scholars analyze how and why local-level organization was crucial to the success of the national Civil Rights Movement. Emilye Crosby, a professor of history at the State University of New York at Geneseo, justifies and clarifies that rationale in her Introduction, "The Politics of Writing and Teaching Movement History." A basic theme is that the existing "top-down literature" does not reveal the whole story to students "who want to do in-depth study of the movement, and to make connections between the history and their contemporary world."
Most of the authors were presenters at a 2006 Genesco conference Crosby organized to stimulate discussion on this premise. Some segments are derived from interviews by Crosby. I am not sure this complex question in the Introduction has been adequately addressed: "How does the long civil rights conceptualization fit with our picture of the Alabama movement—in cities and in the rural—developed by Hasan Kwame Jeffries, Cynthia Griggs Fleming, Glen Eskew, Robert Norrell and J. Mills Thornton?" The only one of those scholars who has a voice here is Hasan Kwame Jeffries, whose byline is on two of the essays.
Part One, "Local Studies on Case Studies," begins with a piece by John Dittmer subtitled "The View from Mississippi," which explores the dichotomy between civil rights activities in that state and national political leaders and institutions over a twelve-year period ending in June of 1966. Part Two, "From Local Studies to Synthesis," is mainly pedantic. The narrative is livelier in Part Three, "Creating and Communicating Movement History: Methodology and Theory," particularly in Crosby's interview text with SNCC staffer Judy Richardson about making the movie Eyes on the Prize.
For me, the poignant "Accidental Matriarchs and Beautiful Helpmates: Rosa Parks, Coretta Scott King, and the Memorialization of the Civil Rights Movement," by Jean Theoharis, triggered this speculation: If not for Rosa Parks, the Reverend and Mrs. Martin Luther King, and others back then who took on that yoke, would the Movement have evolved as dramatically and determinedly elsewhere—i.e., not in Montgomery, Alabama? July 2011
Julia Oliver's current projects include the forthcoming Staged Reading of her play Juliette's Journey, which is based on Mary Stanton's book Journey Toward Justice: Juliette Hampton Morgan and the Montgomery Bus Boycott.