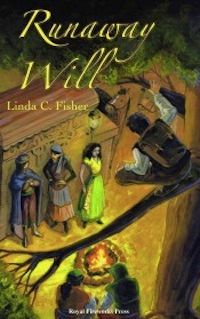 By Linda C. Fisher
Reviewed by Julia Oliver
Children
$9, Paper
A former school teacher, Prattville author Linda C. Fisher has written tourism articles and brochures, hosted a television interview show, and composed two young adult novels about William Shakespeare. The first, A Will of Her Own, utilized a youthful Shakespeare as a sleuth. This second narrative in the series is somewhat reminiscent of the real Shakespeare's Romeo and Juliet. It begins on the famous Bard's sixteenth birthday, in April 1580. Will is running away from his home in Stratford and, in particular, from his father John Shakespeare, who told him he would never amount to anything. His mother has advised Will to head for London, where he could be a lawyer's apprentice and work off a family debt. Will's goal is mainly to avoid danger. His father had warned him to "stay away from Gypsies." So, of course, he immediately encounters and takes up with a band of them. Among the group is a lovely young girl, Katya.
The imaginative storyline focuses on Will's attempt to fit in with his companions. He hatches a creative venture: "Play is a verb! He reminded himself. Act — and the words come." They do indeed, in a rhymed script, The Gypsy Foolery, that unfolds in verse over several pages. For example: "The Chorus: Come everyone, come close and hear, the tale of foolish Chanticleer. This rooster was a silly bird, Believing everything he heard."
The back cover's descriptive text sums up this charming tale's philosophy: "When you're on the run, hiding from authorities, home is where you find it." June 2011
Julia Oliver is a writer and communications consultant in Montgomery.