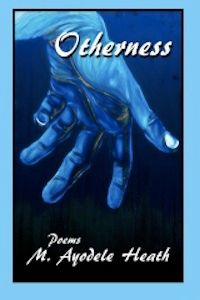 By M. Ayodele Heath
Reviewed by Allen Berry
$15.95, Paperback
Hailing from Atlanta, Georgia, M. Ayodele Heath is a unique and powerful poetic voice. In his new collection, Otherness, Heath explores the age-old themes of otherness and the African American experience in a fresh way. However, it would be a grave error to state that Heath's latest collection offers the black perspective, as evidenced by his poem "The Token's Final Word":
I speak for all black people
when I say this
I do not speak
for all
Black People.
However, Heath is one voice speaking on the experience of otherness, and a very powerful voice at that. Otherness explores the subjects of language ("Etymology of Ain't") and familial love ("Things my Father Gave Me [Which I Never Asked For]") with cleverness and genuine affection, but the bulk of Heath's work addresses the experience of the abject in society. Heath's poems address African American life unabashedly in a manner reminiscent of Langston Hughes. However, Heath speaks with a boldness and even humor that Hughes never quite achieved.
That is not to say that Heath somehow treats his subjects lightheartedly; no, quite the opposite. His poems are stark, gritty, and sometimes harsh. He holds the magnifying glass up to his truth, and will not let his reader turn away.
Heath's poetry speaks in the often forgotten, often marginalized, voices of the black community both at home and abroad. From the Johannesburg Airport where the visiting narrator is told "You walk proud /so I knew you / were from some other place / like Nigeria," to the desolate and depressed streets of Haiti where an AIDS patient hauls around his own coffin in search of a place to die, Heath's poems present a view of the world with such honesty and attention to detail that his characters leap from the page.
Although many of the voices contained in this collection are bleak and painful, the collection is not without its share of tenderness and affection. The poem entitled simply "Home" resonates with the gentleness and sheer joy that accompanies familiarity of home life and family. Composed of reminiscences of first kisses, confections, and familiar faces, "Home" provides a pleasant counterbalance to the otherwise brutally candid chorus of voices. Yet, the collection is punctuated with brief interludes of humor wherein the truth is presented in so humorous a fashion, it almost doesn't hurt to hear.
Heath's background in Spoken Word poetry (he has been featured in the anthology Poetry Slam: Competitive Art of Performance Poetry) comes across on the page in many of the works, but the transition from stage to page is seamless. Dryer complainers from some quarters argue that spoken word artists are less skilled than page poets, focusing only upon the performance aspect rather than quality of verse. The poems contained in Otherness should more than sufficiently silence these critics. Heath's collection deftly maneuvers between both performance and written poetry, firmly establishing him as a bi-lingual poet, able to skillfully navigate the waters that separate these two different worlds.
Allen Berry is the founder of the Limestone Dust Poetry Festival, and is currently a student at the Center for Writers at the University of Southern Mississippi.