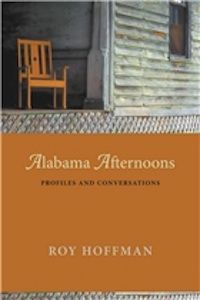 By Roy Hoffman
The University of Alabama Press, 2011
$29.95, Hardcover; $23.96, eBook
Nonfiction
Reviewed by Bill Plott
Warren Koon, a former editor and colleague in journalism, once said everybody has a story to tell if you will just take time to listen to it. Indeed, it was something I had already learned, and Roy Hoffman drives the point further home in this wonderful collection of Alabamians and their stories.
Writer Paul Hemphill said of his hometown, "You carry a scar if you're from Birmingham." The scar belongs to all Alabamians, even now when police dogs and Black Belt poverty still relentlessly represent our state to many. This book is about an Alabama that dispels those images. For all of our shortcomings, such as electing poor leaders, ignoring our social problems, and obsessing over a damned game, Alabama has turned out many wonderful people with wonderful stories. Some of best of those stories are here.
This collection is, in some cases, straight forward interviews and, in others, detailed feature stories, painstakingly constructed with background. Author Mary Ward Brown is interviewed at her farmhouse home while deceased broadcaster Mel Allen is profiled entirely from interviews with contemporaries. Both techniques work well for Hoffman.
Several pieces are pairings of individuals whose lives were intertwined, often in quite unlikely settings. In Mobile, Stan Chassin recalls being frighteningly harassed by future Ku Klux Klansman Tommy Tarrants in high school. Decades later, when Tarrants has rejected his past, we share their tearful reunion of forgiveness. With storyteller Kathryn Tucker Windham and folk artist Charlie Lucas, we simply bask in the glow of their once unlikely friendship.
The book is divided into seven groupings of artists, storytellers, civil rights advocates, and others. The subjects include many nationally and internationally known figures such as William Christenberry, Sara Jeter Naslund, Diane McWhorter, Gay Talese, George Wallace Jr., Winston Groom, and Howell Raines. It also includes some people scarcely known outside of their own communities. In many ways, these little known can be the most interesting, the most insightful to our culture, especially art.
Commenting on Charlie Lucas' penchant for finding art in every found object, Kathryn Tucker Windham explains, "…everything has a story to it. Everything means something."
Folk artist Bernice Sims, who was in her 50s before she sat at an easel, says she had spent those earlier years nevertheless preparing for her art: "I wasn't painting then. I was just memorizing."
If there is a disappointment in this book, it would be the lack of photos of some subjects. For example, it is ironic that there is no image of Charles Moore, a seminal figure in civil rights photography. Also, there is not always a date given for when the interviews were conducted. This would have provided an additional perspective for the reader. June 2011
Bill Plott is a freelance writer and retired journalist in Montevallo.