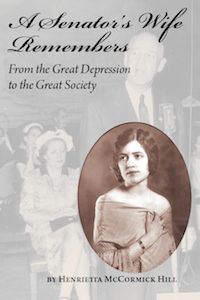 By Henrietta McCormick Hill, Foreword by Henrietta Hill Hubbard
Reviewed by Don Noble
$27.95, Hardcover
On February 20, 1928, Henrietta McCormick, age 23, of Eufaula, Alabama, married U.S. Representative Lister Hill. Hill had been a member of the House for five years, its youngest one. He usually ran unopposed, and won a seat in the Senate in 1938.
Through those early years and on through the Kennedy assassination in 1963, Henrietta kept a journal, wrote letters home, gave the occasional talk, or wrote the occasional magazine piece. These scattered and various writings have been edited and pieced together by Henrietta's daughter to make this informal memoir.
It is not complete, not a day-to-day diary or an historical overview, but it is personal and very much an insider's look at life in Washington in those years. It reminded me in many ways of the Civil War diary of Mary Boykin Chesnut, edited by Southern historian C. Vann Woodward as Mary Chesnut's Civil War. Chesnut, like Henrietta Hill, was present for the unfolding of a lot of history, a close personal friend of Varina Davis, Jefferson Davis' wife, and Mrs. Hill in her years in D.C. came to know and admire Eleanor Roosevelt.
In an amusing incident near the start of World War II, at a Senate Ladies Red Cross luncheon, Henrietta brought up a topic of concern to her: "Mrs. Roosevelt, I have been very much troubled by the hoarding I have seen going on in Washington. What do you think about it?" Mrs. Hill had a soft Alabama accent and Eleanor Roosevelt a northern ear. Mrs. Roosevelt looked shocked. A mutual friend helped out: "Mrs. Hill
meant HOARDING, not WHORING."
At a White House dinner, Mrs. Hill got an opportunity to meet Dr. Albert Einstein, of whom she remarked, "The Professor wears a shaggy beard and has sort of a remote look, as if he were barely on this earth. Maybe he can escape into the fourth dimension—that might be a pleasant interlude on certain occasions."
Beards in general were out of favor with Mrs. Hill. In the summer of 1963, pickets arrived at the Hills' Washington sidewalk to protest what they claimed was "police brutality" and the use of dogs to quell what Mrs. Hill describes as "a riot in Birmingham." She writes, "Several of the young men in the group wore beards. There were as many white demonstrators as colored. . . . a Negro girl tramped all day in bare feet; she wore a knee-length red dress that covered her unborn child."
Modern readers may be surprised at the modesty of Congressional lifestyles in those days. Until 1942, the Hills lived in furnished apartments and hotel rooms and ate in the hotel coffee shop, not the expensive main dining room. For many years, they rented only during Congressional sessions and during their first sixteen they moved thirty-two times.
It was considered arrogant she says, to buy a house in Washington. It looked as if you were too confident of reelection. (At her home in Montgomery, not too surprisingly, Henrietta made the acquaintance of the Fitzgeralds—Zelda, Scott, and Zelda's mother. In 1933, Zelda, she says, was still beautiful.)
In those days, the Senate was not a millionaires' club. The high cost of living in D.C., Henrietta says in 1942, combined with the high cost of campaigns, "makes poor men of most of these public servants. Many of them leave their families destitute." Now this is a report from a distant era.
On the political side, Mrs. Hill expresses her deep pride in Senator Hill's advocacy of the New Deal in general, and the TVA in particular, "a wonderful thing industrially for Alabama," with rural electrification giving farmers a "new way of life." Senator Hill also pushed for the National Institutes for Health and, astonishingly for an Alabama politician, was a strong supporter of the United Nations. These were progressive views. If the Hills had any progressive views on race relations and/or civil rights, however, the reader will find no trace of them in these pages.
Within her circumscribed world as a senator's wife, Henrietta Hill writes honestly, it seems, of what she knew about and what she was able to see. June 2011
Don Noble is host of the Alabama Public Television literary interview show Bookmark and the editor of A State of Laughter: Comic Fiction from Alabama. This review was originally broadcast on Alabama Public Radio.