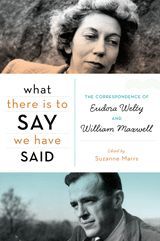 Edited by Suzanne Marrs
Reviewed by Don Noble
Houghton Mifflin Harcourt, 2011
$35, Hardcover
A volume of collected letters gives readers special insights at a variety of very particular moments into the psyche, personality, character, concerns, sense of humor, range of interest and circle of friends of one individual.
A volume of correspondence between two people gives you this and more—a dual autobiography and the ongoing, intimate building and unfolding of a friendship.
William Maxwell was Eudora Welty's editor at The New Yorker magazine and, importantly, was considered her peer as a fiction writer. They both won the William Dean Howells medal. She won a Pulitzer Prize, and he won a National Book Award. As time passed, they each won a mantel-full of prizes, but something about Miss Welty captured America's affection, and she became "beloved." Universities vied to give her honorary doctorates, the French made her a Chevalier in the Legion of Honor, and fellow southerner President Jimmy Carter awarded her the Presidential Medal of Freedom.
Maxwell, the author of six novels, many stories and essays, and children's books, was perhaps Eudora Welty's greatest literary admirer. He championed her work at The New Yorker through six stories and an essay that were rejected, and then, gently, with enormous care and affection, edited the seven pieces that appeared in the magazine including two complete novels, The Ponder Heart and The Optimist's Daughter, which took up nearly entire issues. Some of the letters are, then, inevitably about editorial changes to Welty's manuscripts, but mainly they are not.
Maxwell never committed the editorial fallacy as it had been defined to him at The New Yorker by America's best critic and editor, ever, Edmund Wilson, "Changing things for the sake of changing them."
Maxwell and his wife, Emmy, and Welty wrote back and forth, starting in 1942, for more than fifty years. Bill wrote Eudora 197 letters that survive, his wife Emmy wrote 109, Welty wrote the Maxwells a total of 184. Almost all of them are collected here, edited with useful notes by Suzanne Marr, a long-time close friend of Welty and the author of the best Welty biography.
Welty and Maxwell wrote at home or work, at leisure and on vacation, sometimes in haste sitting in airports, and the letters grow ever more affectionate over the years as the Maxwells, who have two daughters, and Welty, who lived with her mother and was very close to her brother, all come to think of themselves as, truly, family. Illnesses, deaths, triumphs and disappointments are all shared.
Also shared, and at enormous length is their mutual obsession with flowers, mainly roses, but the non-aficionado can hurry through these sections.
Fascinating, I think, to any reader, is their shared fondness for the work of a number of other writers. They read and exchange views on Virginia Woolf and the Bloomsbury gang, Elizabeth Bowen, Henry Green, Isak Dinesen, Frank O'Connor—whom Maxwell also edited and corresponded with—and scores of others. Besides writing, Maxwell and Welty loved to read, lived to read. Bill wrote, "… can you see why people do anything at all but read?"
But one has to earn a living. Maxwell had his editing job, but Welty in Jackson, Mississippi, needed to earn money any way she could to get time to write and read. There were occasionally financially lean periods when she was forced to accept visiting writer posts, lectures and readings, and invitations to participate in writers conferences. These all became more and more exhausting to her as the years rolled by.
Welty writes, "I like young people and really am stimulated by the back-and-forth, but they just don't want to let you go. In a moment of desperation I thought, I bet that was what happened to old Orpheus in the end, he was torn to pieces by the original Writer's Conference." She writes Maxwell, "It's not that I don't like students," but, quoting what their mutual friend Elizabeth Bowen said of them, "They drink your blood."
Eventually, as honors and royalties rolled in, Welty could decline traveling for work and enjoyed traveling to Italy, France, and the British Isles for pleasure. She developed severe arthritis which made writing painful, and her letters were spaced farther apart, but it was the comfortable silence of those who love one another. As Maxwell put it, "What there is to say we have said, in one way or another."
And these two, in their letters, spoke as eloquently as would be expected from literary artists who understood and revered the richness and possibilities of the English language.
Both Welty and Maxwell very much enjoyed reading the volumes of writers' collected letters that were published during their lifetimes. We would do well to savor this volume now and the few like it that will appear in the near future because we are at the end of a literary-era. Even if a computer program is written someday, years from now, to retrieve all the e-mails of some young writer beginning his career today, and that program is declared to be legal, who will want to read them? The email form is designed for speed, abbreviations, the transferring of information, or, even worse sometimes, hasty and ill-considered opinions and responses . They are rarely graceful or thoughtful. Of the literary value of tweets there is nothing kind or useful to be said. June 2011
Don Noble is host of the Alabama Public Television literary interview show Bookmark and the editor of A State of Laughter: Comic Fiction from Alabama. This review was originally broadcast on Alabama Public Radio.