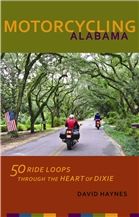 By David Haynes
Reviewed by Don Alexander
The University of Alabama Press, 2011
$29.95, Paperback; $23.96, eBook
Some Alabama motorcyclists relish track time, some their trail time, some their vacation escapes across country, and some the wonderful viewing experiences at Alabama's Barber Vintage Motorsports Museum and Barber Motorsports Park. Certainly, most of us relish our excursions on a clear weekend day. Motorcycling Alabama is perfect for such day-trips.
Motorcycling Alabama is much more than a guidebook. The author, David Haynes, is a commercial photographer and the owner of the Studio at Blount Springs. The hundreds of color prints provide enticing scenes for each of fifty Alabama trips, set up as loops, that he "laid out" for the reader. Motorcycling Alabama includes sections concerning trip planning, motorcycle preparation, motorcycle safety and equipment, minor repairs on the road, and (for those wanting more than one day on a loop), camping.
Haynes divides Alabama into five regions. In each region he sets up loops of from seventy-five to 150 miles in length. Each region is color coded and the included and detailed loop maps uses matching colored borders, making quick access convenient. Each loop, carefully ridden on his Beemer, has precise turn-by-turn directions, (monitored and measured using his Global Positioning System), as well as narrative descriptions of sights to be encountered. Each loop avoids metropolitan areas and interstates, ". . . and four lane highways where possible, except for the start and end points. The rides are almost all through the back roads of our still mostly rural state."
The maps for each loop have well-marked highlighted routes with mileages superimposed. The aforementioned turn-by-turn directions contain road numbers or names as well as distances. Also, the GPS coordinates of the start/end point of the loop are included, overall mileage, and estimated riding time. Haynes' precision and attention to detail are exceptional.
The narratives may make for great "couch sitting" reads, and the book's cover is permanently, protectively plastic coated to minimize the risk of damage during storage in a saddlebag or while reading during a stop along the ride. Motorcycling Alabama is a book for rides; "In other words, the routes were selected with preference given to the most enjoyable roads for motorcycling rather than the attractions you might pass along the way."
Motorcycling Alabama is well-written, well-presented, and easily accessible. It is a nontechnical collection of Alabama adventures for any biker. It is a perfect gift for a rider or a needed self-purchase for a rider's book collection. June 2011
Don Alexander is a retired Professor of Mathematics and recent returner to motorcycling.