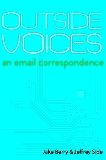 By Jeffrey Side and Jake Berry
Reviewed by Carey Scott Wilkerson
$13.45, Paper
Dear Felix*,
I have a proposal and a problem, indeed the two are one. Each is less knowable than the other. And here it is: I'll write to you in the manner of the post-belletristic bon-vivant and you reply in the corresponding style, a style of correspondence, or a corresponder, a core responder just so we can get to the heart of the matter and it matters heartily or either hardly matters. In any case, let's write. Because it is the right thing to do.
Dear Scott,
If I didn't know you better (but I do), I might counter that your proposal seems like a trick, a sham, and a dad-blame shame as Jake Berry and Jeffrey Side have beaten us to the mark, or more properly to the markings. I am reading, with great interest and admiration, their own book of e-mail correspondences, Outside Voices: an email correspondence. The exchange, occurring over eighteen months, transcontinental, is decidedly transcendental in that the material is largely incidental, that is, often simply (if "simply" has to be the word for it) about the complex and very serious business of daily life. To my mind—and therefore, presumably, also to yours, Scott—that this book exists at all is both revelatory and revolutionary. Consider these insights from e-mails in 2006 and 2007 from Jake Berry regarding entertainment in America and the state of contemporary poetry, not to say, poetics, not to say poets. Here, we find Jake speaking the gospel truth about poetry and uttering an indisputable maxim about what writers must do for themselves and for their universe. It is, as indeed is the book as a whole, both logically decisive and intellectually thrilling:
"Jeff,
Poetry has painted itself into corners all over the place. The academic corner. The Beat/Hip corner. The exclusive avant-garde corner. The anecdotal narrative corner. The poetry slam, open mic corner. […] All we can do is create work to the best of our ability and make it as available as possible."
It sounds as if TV there [Great Britain] is about the same as here. We have all the reality shows and game shows and other useless distractions. I watch none of them…If television is a means to knowing in the post-modern, or to being cool, then I don't care to join the club."
Dear Felix,
Amen to that!
Dear Scott,
In another stunning section Jeffrey Side has the following to say about the Internet and the paradox of information technology. It is an exemplary instance of an elegant mind doing the hard work of looking hard at a hard world:
"Jake,
One of the problems of using computers for creative writing is that you leave no historical paper trail behind you. With the advent of word processing and the ability to edit a document by deleting rather than crossing out, or starting a new page in a notebook, a lot of the material that charts the development of a creative work is lost….The only way I can think to save electronic information from being destroyed or lost if the Net went down is if in the future each of us could house the Internet in our physical brain […] In fact, we would probably come to see the Internet part of us as indistinguishable from our normal thinking process…"
Felix,
Quite so, I see your point: Berry and Side (Jake and Jeff) are engaged in the most advanced and responsible discourse about writing that two people could have at a distance. Indeed, what begins as an old-fashioned epistolary encounter quickly becomes an extraordinary excavation of the big issues in contemporary writing, philosophy of language, and meaning itself. Moreover, it almost seems that it is precisely because they are writing e-mails—and not speaking in a seminar room—they find such striking Truths and alarming implications.
Scott,
If I may presume to judge this splendid text (theirs not ours!), I will say that Outside Voices is that book which, in the future, will have been the document of a time when poetry's self-proclaimed, self-reflexive, self-inflicted crises were held up to the illuminations of poetic project, which through brilliant, funny, and delightfully candid prose, gave us—you, me, all of us, real and imaginary—exactly the kind of hope we needed. The world is held together, Felix, by the future perfect tense, and Outside Voices will have been the reason some of us kept writing.
*Felix, an indeterminate figure, appears in Scott Wilkerson's book of poems Threading Stone. Scott corresponded with Felix about Jake Berry's and Jeffery Side's book Outside Voices during a five-week period beginning 22 February and ending 30 March, 2011. May 2011
Scott Wilkerson teaches in the English Department at Columbus State University.