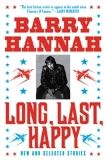 By Barry Hannah
Reviewed by Don Noble
$27.50, Hardcover
When Barry Hannah died of a heart attack on March 1, one year ago, he was the most honored and revered of Southern fiction writers, a local hero in Oxford, Mississippi, and the ruling eminence of the Sewanee Writers Conference. And he had received the Academy Award in Literature from the American Academy of Arts and Letters, the National Book Award, the PEN/Faulkner Award for Short Fiction, and many others. He deserved them all.
At 464 pages, this volume of new and selected stories is a large, generous gathering of Hannah's best short fiction. Hannah had, in addition to eight novels, four volumes of stories.
There is no announced editor but the Publisher's Note acknowledges advice from Brad Watson, Jack Pendarvis, Richard Howarth, and others, and they are the best, most knowledgeable people to ask. Until the Library of America or someone else publishes Hannah's complete stories, this collection will serve admirably.
The volume Airships is represented here by nine of twenty stories, among them: the most well known, "Water Liars," which explores males' utter inability to overcome historical sexual jealousy; "Love Too Long," in which a miserable lonely husband, in his living room, is buzzed by his estranged wife in an airplane; the outrageous, very disturbing "Coming Close to Donna," perverse murder in a cemetery; and the Saigon-set story, "Midnight and I'm Not Famous Yet."
These stories, as well as the novel Ray and the collection Captain Maximus, which had been severely edited, trimmed to the bone, by editor Gordon Lish at Esquire and Knopf, are mostly short, small, epigrammatical blasts of emotion and language.
Although Hannah wrote some of his best work, the collection Airships and the novel Ray, while teaching in the English Department at The University of Alabama from 1975-1980, his time here was not altogether happy and his relationship with some colleagues was fraught. Fiction writers will often get the last word, however. Shortly after leaving, Hannah published the story "Ride, Fly, Penetrate, Loiter." He recalls Tuscaloosa thusly: "I was among dwarves over at the school, where almost everybody dies early. There is a poison in Tuscaloosa that draws souls toward the low middle. Hardly anybody has honest work. Queers full of backbiting and rumors set the tone. Nobody has ever missed a meal. Everybody has exactly enough courage to jaywalk or cheat a wife or a friend with a quote from Nietzsche on his lips."
After Captain Maximus, the stories get generally longer, looser, require more patience, but still sparkle. Hannah still writes mainly of the Deep South, motorcycles, alcoholism, marriage, pain, sex, music, guns of every kind, racism, loneliness, fishing, his protagonists off-handedly pronouncing irritating, amusing, politically incorrect opinions along the way.
The speaker in "Lastward, Deputy James" says, "These days, like millions of the talentless, she'd developed pretensions to art photography." Another protagonist opines, "He himself thought there was no meal served anywhere worth more than ten dollars." No fan of Texas, another speaker declares: "The standard artist for Dallas should be Mickey Gilley, a studied fraud who might well be singing deeply about ripped fiberglass. His cousin is Jerry Lee Lewis still very much from Louisiana. The Deep South may be wretched, but it can howl."
An interesting exception to the Deep South setting and subject matter is "Two Things, Dimly, Were Going at Each Other," set in New York City of all places, with a protagonist clearly modeled on the writer/junkie William S. Burroughs, author of Naked Lunch. Burroughs, here called Coots, a quiet elderly fellow, is presented with surprising sympathy.
"Scandale d'Estime," set in Mississippi, was a pleasure. Here the protagonist has a friend, Harold, who is a connoisseur of scandal and embarrassment. "Oscar Wilde enchanted him, and Fatty Arbuckle," Hannah writes. "Every worthy life would have a scandal," Harold says. The protagonist certainly achieves his, which involves being found handcuffed in a hotel bathtub to a beautiful dope addict who has stabbed herself in the liver. Scandal, like other crises in Hannah, lifts one from the "gloomy usual."
Hannah can write with note-perfect psychological realism, as is demonstrated in the emotionally moving forty-three-page story of a father and his self-destructive poet son who gets fired from his teaching job at Auburn, "Have You Got a Cig, the Time, the News, My Face?"
But, like Picasso or even Dali, artists who could paint with photographic realism when they chose, Hannah usually chooses not to. Sometimes, ordinary English words appearing side by side in Hannah's fiction are so startling it's clear they have never before met in the same sentence. The originality is explosive. Reading Hannah's prose is like looking for the first time at the fractured world of Picasso's cubism or the surreal, melting clocks of Dali. When one reads several Hannah stories all at once, they can sometimes sound like one another, but they never sound like anyone else. If you were walking through a strange city and saw a Hannah sentence written on a wall, you would know it was his at once.
Of the new in this new and selected volume there is one piece of juvenilia, the story "Trek" from the Mississippi College literary magazine Arrowhead in 1964. There are also four pieces which were actually chapters of a novel Hannah was working on at the time of his death, one of which, "Sick Soldier at Your Door," had been published. This last novel investigated a series of burnings, mainly churches, in the Mississippi Valley, with the arsonists being returned, disturbed veterans of the Iraq War. They are not the strongest sections in the book, but Hannah fans will certainly want to see them anyway.
Barry Hannah is regularly compared to other writers, of course, usually Faulkner or O'Connor. However flatteringly meant, this comparison is of no use. Hannah was singular, unique, and we will not see his like again. May 2011
Don Noble is host of the Alabama Public Television literary interview show Bookmark and the editor of A State of Laughter: Comic Fiction from Alabama. This review was originally broadcast on Alabama Public Radio.