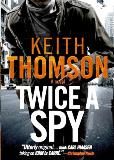 By Keith Thomson
Reviewed by Julia Oliver
$25.95, Hardcover
Hard on the heels of Birmingham author Keith Thomson's critically acclaimed first novel, Once a Spy, this aptly-named sequel smoothly propels the cast forward as though it's the second season of a popular thriller-TV series. The main characters are a father-son duo. The elder of this pair, Drummond Clark, has been an undercover agent of the CIA for thirty years, in charge of a unit that sells nuclear weapons concealed inside washing machines to terrorist groups. When a sale is made, the terrorists are arrested, and no harm is done. Charlie Clark, whose main occupation heretofore has been gambling, has only recently learned that his Alzheimer's-addled father is not an appliance salesman. Some of the one-liner humor is built around Drummond Clark's memory problems, but in spite of that hurdle, he comes across as heroic and capable enough to save the day.
The action is swift and intense, with vivid description. The narrative opens in Switzerland, with the almost immediate kidnapping of Charlie's girlfriend Alice, a former National Security Agency official. Readers who are not used to such a pace may have trouble keeping up, especially with the acronyms. We all know that CIA is short for Central Intelligence Agency, but NSA, which here stands for National Security Agency, can also represent the National Softball and National Speakers Associations.
Drummond and Charlie must travel from Switzerland to Martinique to find the weapons the kidnappers demand as ransom for Alice. They flee a fleet of police cars in a hijacked Amphi-bus that doesn't make very good time on land or sea, and a pilot literally bails, leaving them aloft over the Caribbean in a plane neither can fly. Of course, Drummond is a risk to the CIA; if he gets confused enough, he could spill some secrets. Another obstacle is that if they find the bomb, swapping it for Alice could cause horrible havoc.
The confident, often breezy writing style and the obvious fact that the author has done a lot of research make this book a great choice for readers who like the accelerated pace of the roller-coaster thriller genre.
The author grew up in Connecticut and has lived in Birmingham for the last five years. A former semipro baseball player in France and an editorial cartoonist for Newsday, he writes a blog for the Huffington Post. April 2011
Julia Oliver's novels Music of Falling Water and Devotion are available in electronic editions.