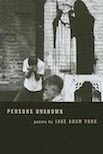 By Jake Adam York
Reviewed by Jennifer Horne
Crab Orchard Review & Southern Illinois University Press, 2010
$14.95, Paperback
Jake Adam York's third book of poems continues his project of investigating recent southern history. Specifically, in his last two books, York has set out to identify and memorialize the twentieth-century martyrs, America's own martyrs, of the civil rights movement.
As in a book of saints' lives, these books specialize in torments, the burnings, beatings, drownings, shootings, and hangings heaped upon those who dared challenge the racial status quo.
Also as in a book of saints' lives, the recording of these torments risks becoming repetitive. Having decided to focus his poetic attention on a single subject, York's challenge is to create fresh ways of seeing these horrors, not only to make the smell of a southern river present in our nostrils but to present, through language and perspective, a new way of looking at what we think we already know about—the Freedom Riders, the midnight violence, the tired old guilt of the southern white liberal.
York succeeds tremendously well, to some extent because his obsessive need to understand and to make forgetting impossible comes across as so utterly sincere, so authentic, so meant. Paradoxically, this is achieved partly by keeping personal information out of the poems. One poem, "Self-Portrait As a Moment in 1963," imagines his mother and grandmother before he was born, but that's the exception. In most of the poems in this book, the speaker is everyman with a conscience, a wanderer in search of a truth he may never find, because "[t]here are no answers. / There is no one to ask" ("Shore").
Many of the poems, especially those in the second section of the book with its series of "self-portrait" poems, are told from this perspective, a white man who goes where maybe he shouldn't, who gets asked by both whites and blacks, "Where you from?" This book has a restless speaker, one who travels to Poplarville, Jackson, Natchez, and Oxford, Mississippi; to Gadsden, Selma, and Tarsus, Alabama; to New Orleans, and even to West Palm Beach (vigilantes in Florida lynched 266 blacks between 1882 and 1930, beating out the other southern states for the dubious title of most lynchings). The identity of this speaker gets located mostly in his willingness to question everything, even his own embarrassed complicity when the owner of a historic home learns where her visitor is from,
"and she leans in to say I just love it
you know—there are no darkies there.
Then afternoon is a conspiracy of color,
an echo the heat or the history
in our voices draws us into—" ("The Second Person")
York's other tactic in making us read these narratives with care and attention involves language. While retaining a firm hold on meaning—because these poems are about the lessons of history, not verbal trickery—he coaxes his words to do new work, as nouns become verbs: "shirts that pollen when you move" ("And Ever"), "one finger weiring the dust" ("Mothlight"), "Newspapers heron in the reeds" ("The Hands of Persons Unknown"), and verbs and adjectives nouns: "the yard's a writhe of flashlights" ("And Ever"), "the reels unwind / / in a library's dim . . ." ("Shore"). Sometimes, the image itself tells all: "light peeling from the wounds of the stars / / and distant birds that sing like glass, / a clot in the tissue of the sky" ("Collect").
Particularly worth noting is the poem "And Ever," which does in poetry what Eudora Welty's story "Where Is the Voice Coming From?" does in prose for the death of Medgar Evers in Jackson in 1963.
York's first book, Murder Ballads, contained a handful of elegiac poems, including the poem whose title, "Notes Toward an Elegy," might serve as an apt description of York's overall intent. In a note at the back of this book, York suggests that his second and third books are really meant to function as one, that the two sections of Persons Unknown can be interleaved with the parts of A Murmuration of Starlings to form one volume—currently a volume of the imagination only. Still, one imagines he's probably not done, and probably never will be.
Formally strong, rich in images of a half-decayed natural and manmade world, powerfully human in the desire both to know the truth and to escape it through "sweet amnesia of smoke and beer" ("Before Knowing Remembers"), this book is a convincing indictment of historical complacency.
If there were a store that sold only works that helped us see the South freshly, often in sidelong, illuminating glances, Persons Unknown would be sold there, along with Confederates in the Attic, all of Flannery O'Connor, and the films O Brother, Where Art Thou? and Searching for the Wrong-Eyed Jesus. When you entered, you'd be greeted not with "Where you from?" but "You've come to the right place. Welcome." April 2011
Jennifer Horne is the author of Bottle Tree: Poems, the editor of Working the Dirt: An Anthology of Southern Poets, and the co-editor of All Out of Faith: Southern Women on Spirituality.